US Secretary of State John Kerry has welcomed the renewed cessation of hostilities agreement that includes Aleppo and said he expects all parties, including the US-backed opposition and government forces, to abide by it.
"We expect all of the parties to the cessation of hostilities to fully abide by the cessation in Aleppo, that means the regime and the opposition alike," Kerry said alongside EU foreign policy chief Federica Mogherini.
The US and Russia reportedly persuaded Syria's government and moderate rebels to extend the country's fragile truce to Aleppo, with the Syrian military agreeing. Sporadic clashes have reportedly continued, US officials said Wednesday.
The US and Russia finalized a nationwide ceasefire in late February, but have struggled to make it stick.
The first ceasefire since its inception was not applied to IS or the Nusra Front, al-Qaida's Syria affiliate, which caused problems in places like Aleppo, where Western and Arab-backed militants have sometimes fought allied to al-Qaida, making it hard to determine which Syrian government offensives or Russian airstrikes constitute violations.
State Department spokesman Mark Toner said Washington and Moscow would monitor the new truce closely.
After a lull Monday and early Tuesday, rebels in eastern Aleppo fired at least 65 rockets into government-controlled neighborhoods, Syrian state news agency SANA reported Wednesday.
Three people were killed Wednesday in shelling by Syrian rebels of government-held areas in Aleppo, state media and opposition activists said.
The wave of violence has killed more than 270 people since April 22.
On Wednesday, Kerry warned Syrian President Bashar al-Assad of "repercussions" if his regime flouts any new truce under negotiation. "I don't think that Russia wants that. I don't think Assad is going to benefit from that," he added.
Berlin talks
Earlier Wednesday, German Foreign Minister Frank-Walter Steinmeier and his French counterpart Jean-Marc Ayrault said that achieving a ceasefire in Aleppo was critical to renewing peace talks on ending Syria's civil war.
"I believe everyone knows and can conclude that there could be no return to the political talks in Geneva if a ceasefire in and around Aleppo is not observed," Steinmeier told reporters in Berlin.
Speaking before the talks, he said it was necessary "by any means to de-escalate the situation," as Germany hosts the latest effort to broker a truce to end five years of war in Syria.
Steinmeier is hosting talks with Ayrault and UN peace envoy Staffan de Mistura and Riad Hijab, coordinator for the opposition umbrella group the High Negotiations Committee.
The talks aim to finalize a new truce agreement, initially brokered in Geneva, between regime troops and rebel forces.
Up to 400,000 people could head for the Turkish border if there is no truce in Aleppo, de Mistura said after the meeting. "The test is Aleppo now," he said.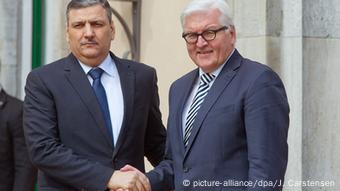 Steinmeier and Riad Hijab in Berlin
Paris reacts
Ayrault said he was concerned over the breakdown in negotiations following the surge of violence in Aleppo, adding that Assad's government bears full responsibility for undermining the ceasefire.

"What is happening in Aleppo is a tragedy that requires a stronger reaction," Ayrault said. "It is a terrible drama that is happening there with victims, and the regime in Damascus bears full responsibility for what is happening and this means undermining the ceasefire, and goes all the way to destroying hospitals, killing women and children, civilians and doctors."
Ayrault went on to call for a meeting of "like-minded" countries that support the Syrian opposition to meet in Paris next week "to get these deadly bombings to stop, for humanitarian aid to be distributed effectively and so we can resume the path to a political solution."
"[Aleppo] is to Syria what Sarajevo was to Bosnia," said France's UN ambassador Francois Delattre.
France will host the talks next week with Saudi, Qatari, Turkish and UAE foreign ministers on the breakdown of the peace process. Paris has so far been unable to persuade either of the International Syria Support Group's co-presidents, the United States and Russia, to organize such a meeting, he said.
Carter calls for more coordinated action
Meanwhile, US Defense Secretary Ashton Carter also on Wednesday called on all countries in the fight against "Islamic State" (IS) jihadis in Syria and Iraq to offer more military resources. Carter also mentioned the possible support of NATO in the fight against IS through the deployment of alliance surveillance aircraft.
The Arab League said Wednesday it will strive to ensure that all of those behind the violence in Aleppo would face "international justice."
jbh/sms (AFP, AP, dpa)