Dozens of Kenyans came together on Tuesday to protest the murder of Christopher Msando, a top election official who was tasked with overseeing the country's crucial electronic voting system. He was found dead with signs of torture in a forest on the outskirts of Nairobi over the weekend.
"We want to ensure that all Kenyans will be able to feel they are secure. Come election day, Kenyans have to be confident when they are going out there to cast their ballot," said one protester in Nairobi.
"As a democratic nation we want to ensure that everyone exercises their civic duty to go out there and vote," she added.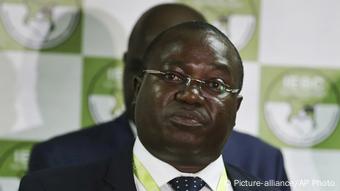 Election commission official Msando was tortured and killed
"The foul murder of Chris Msando is politically instigated," said another protester marching along the streets of Nairobi.
While reading a joint statement on behalf of the organizers, George Kegora, executive director of the Kenya Human Rights Commission (KHRC) pointed out many Kenyans believe "elements within or close to the state" were responsible for Msando's murder.
Kegora called on security officers to expedite investigations to arrest the people responsible for his murder.
"We are mourning with the family, we are mourning with the IEBC [election commission] family," said Msando's boss, Wafula Chebukati, at the rally.
Attack on Kenyatta's running mate
Msando's murder came shortly after the home of deputy president and running mate of President Uhuru Kenyatta, William Ruto, was attacked on Saturday.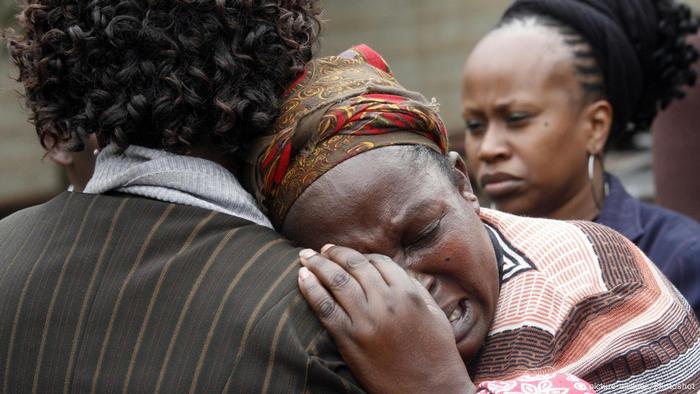 People mourned for Msando, the election board's head of information, communication and technology
"The killing of Christopher Msando is catastrophic for his family and for the country's preparations for election day on August 8," said Otsieno Namwaya, Africa researcher at Human Rights Watch.
"Authorities should do everything possible to investigate and ensure that those responsible for his murder are held to account."
His body was reportedly found alongside the body of an unidentified woman with a gunshot wound to the head.
Raila Odinga's opposition alliance condemned the killing of Msando in a statement.
"That no effort was made to camouflage this killing as an accident shows the determination of the killers to send a chilling message that they will stop at nothing to ensure the outcome they desire," the statement read.
Kenya's violent past
A decade ago, disputed elections led to the nation's worst electoral violence that saw more than 1,000 people killed. Many fear the elections on August 8 could be tampered with as well - and cause another devastating outburst of violence.
Kenyatta's rival Odinga claims the elections in 2007 and 2013 were stolen from him - the opposition claims Kenyatta wants to rig this year's elections which Kenyatta denies. In turn, the president is accusing Odinga of trying to divide the nation and provoke violence.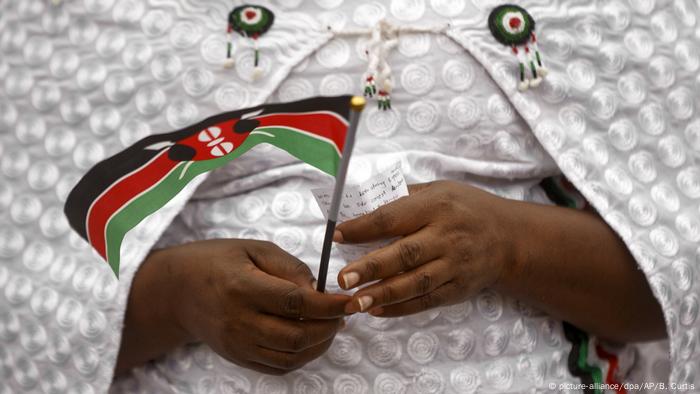 Kenyans hope the August 8 elections will remain peaceful
Fear of voter fraud
"People say the dead come back to vote, and then return to their graves," said George Morara, chairman of the Kenyan National Commission on Human Rights (KNCHR).
According to accounting company KPMG Kenya, it's estimated there are about one million dead voters on the electoral register - in 2013, Kenyatta won by a margin of 800,000 votes.
Another way to sway the vote is to pay for voters' identity cards during elections, which means these voters won't be able to cast their votes, Morara added.
Then there's the option to have people vote in constituencies they don't actually live in to boost numbers there.
Kenya did introduce an electronic system meant to curb voter fraud in 2013 that included biometric voter registration. However, the technology could be hacked - or heads of polling stations could just find an excuse to abandon the electronic system altogether which reportedly happened in some cases in 2013.
Msando, who had reassured voters this year's elections would not be tampered with, was due to lead a test run of the voting system on Monday.
Andrew Wasike contributed to this report.