Kenya's military have issued a warning to cattle raiders as they prepared to go to northwest Kenya to crack down on an armed group which killed more than 32 police officers in an ambush. The military said cattle raiders should be prepared "to die because it is easy for the government to compensate their loss of life."
The Kenyan Human Rights Commission, Samuel Tororei, condemned these remarks saying warnings of this sort were not prudent.
"The police should have issued a warning, urging the rustlers to stop their criminal acts, but threatening them with death is against human rights principles."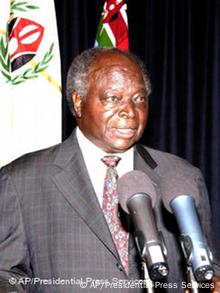 President Kibaki says his country is not a safe haven for bandits
The killings came as the government was trying to media between the Turkana community, which reportedly stole cattle from the Samburus tribe, and accusation followed counter-accusation.
Cattle raiding is rife in Samburu partly because the area borders on countries with a history of civil wars and conflicts, such as South Sudan and Ethiopia, in which small arms are readily available. Such weapons are easily smuggled into Samburu.
But on Wednesday, the scale of deployment by the Kenyan military had yet to be decided. Military spokesman Major Emmanuel Chirchir said they were waiting for our formal instructions and directions from the National Security Council before "we make any decisions about the size and scale of any deployment."
Force or coercion used to obtain information
Meanwhile, hundreds of civilians are fleeing the area, fearing their lives will be in danger when security forces start their hunt for the attackers who killed police officers.
President Mwai Kibaki and other government official said they were committed to bringing peace to the area. "No part of this country can be safe haven for bandits," said the president said in a statement.
The crackdown will also involve the disarming the pastoral communities, which analysts fear will be a challenging excise for the Kenyan security forces.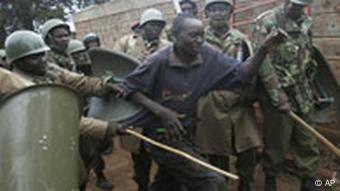 1,200 people lost their lives in post-election violence in Kenya in 2007-2008
"We have witnessed a number of cases in which Kenyan security operators are reported to have used force or coercion in order to secure information and get groups disarmed," Emmanuel Kisiangani, Kenya expert at the International Crisis Group told DW's Africalink show.
Although clashes over cattle, land and water are frequent among tribes in Kenya, Samburu's violence and the kind of weapons used in Samburu has shocked many.
Those weapons include rocket-propelled grenades.
"I think it is time to equip the police with armoured vehicles so that they are better protected," said Police Commissioner Mathew Iteere said.
Pressure to improve the force is mounting as Kenya heada to the polls in March next year. Elections in 2007 left 1, 200 people dead and displaced around 300,000 in ethnic related violence.