Kenyan Interior Cabinet Secretary Fred Matiangi on Saturday confirmed that several people who have been sharing "incendiary" messages aimed at sparking political unrest in the country have been arrested.
Matiangi, who was speaking on behalf of the government before national and international media, also warned that "the government will stop at nothing to protect lives and property of Kenyans." He however vehemently refuted earlier reports that police had shot dead two people.
"I'm not aware of anyone who has been shot dead by police," he said. "Those are lies and rumors. Police have not used any live bullets. So anyone who says the police have shot dead protesters is a liar."
"Peaceful protesting will always be protected in accordance to the existing laws. Therefore, looters are not protesters by any stretch of imagination. They are just criminals," he added.
News of the arrests has raised concerns among social media users in the country, who are now afraid of being arbitrarily detained by police and security agents.
Claims of rigging
The stern warning by Matiangi, who is also responsible for security affairs, comes on the heels of this weekend's running battles between rioters and police after incumbent President Uhuru Kenyatta was declared winner of last Tuesday's election with 54.27 percent of the vote.
His closest rival, Raila Odinga, received 44.74 percent. The riots took place in Kisumu and Kibera counties, two major strongholds of Odinga, the opposition leader.
Odinga has since rejected the results, claiming that the elections were massively rigged.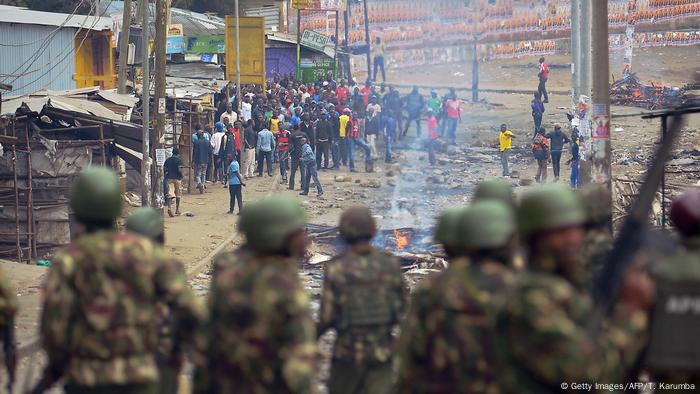 Riots are threatening to tear Kenya apart in the aftermath of the election
Rights groups warn of police brutality
In a statement also released earlier on Saturday, the rights organization Human Rights Watch urged Kenyan security forces to exercise restraint in the face of protests taking place in response to election results.
"In any situations where security personnel use force, they should take care to ensure that it is proportionate," the statement said.
"With growing reports of demonstrations and heavy gunfire in some areas, it is important for security forces to work to de-escalate - not escalate - the violence," said Otsieno Namwaya, Africa researcher at Human Rights Watch. "The police should not use tear gas or live ammunition simply because they consider a gathering unlawful."
Likewise, Amnesty International said it had received credible information that one man was shot dead by police in Nairobi's Kibera slums and at least two others in Kisumu's Kondele area, while others were injured.
"Police must do everything necessary to protect life in these protests. They should prioritize dialogue and de-escalation, and only use force and firearms if all peaceful means fail, and only where necessary to protect life," said Amnesty's Muthoni Wanyeki.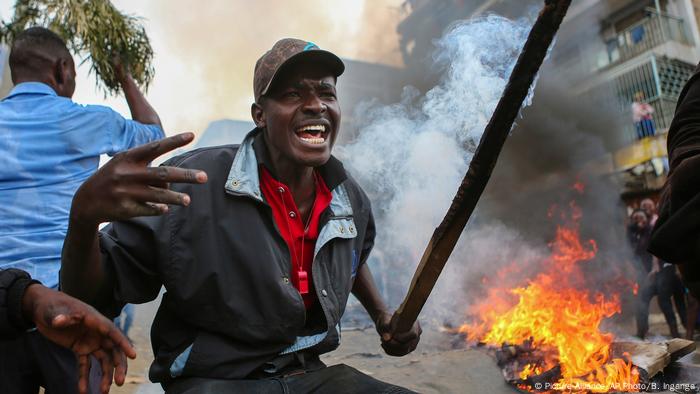 Protesters have blocked roads and burnt tires
Locals speak out on violence
Residents of Kisumu told a DW correspondent that they wished the situation could return to normal, because they were now living in fear of their lives.
"We would like normalcy to return to Kisumu so we can live in peace once again. Politicians should sort themselves out and leave us alone," Theresa Adhiambo, a resident of Kisumu, told DW.
"We can't go back to our normal routines, which is making it difficult for us as mothers to feed our families. Food prices have also been hiked by at least 50 percent," she said.
Mathew Ouma, a fruit vendor in Kisumu county, also told DW that business was not doing well because the town residents had decided to remain indoors for their own safety.
"I appeal to resident of Kisumu to embrace peace, because remaining indoors alone will not solve the situation," he said.