The deal, signed at a ceremony broadcast on television on Tuesday, followed intense negotiations brokered by religious leaders.
"This brings to an end one of the most painful of experiences in labor relations in the country," Peter Munya, governor of Meru county and chairman of the Council of Governors, told reporters.
"We wish that this country shall never experience this again," said Ouma Oluga, the secretary general of the Kenya Medical Practitioners Pharmacists and Dentists' Union (KMPDU). The union represents roughly 5,000 doctors working for state hospitals.
During the acrimonious dispute, President Uhuru Kenyatta had criticized the 5,000 striking doctors, accusing them of "blackmail."
The "Return to Work" deal between the government and KMPDU was shared via Twitter, revealing that doctors will now earn between 56,000 and 70,000 shillings more per month (519-640 euros, $540-680).
Before the raise, the lowest monthly salary for doctors was roughly 126,000 shillings.
Doctors working in Kenyan public hospitals went on strike on December 5. They demanded that authorities implement a 2013 agreement, requiring the government to pay doctors 150 to 180 percent more and to improve their working conditions.
Many emergency rooms in public hospitals across the country do not have key medical supplies. Power outages sometimes force doctors to provide light for surgeries with their cell phones. There is also a severe lack of doctors at state run hospitals. Many Kenyan physicians choose to work abroad or at private facilities given the better salary and working conditions.
The government has said it does not recognize the 2013 deal.
Kenyatta had threatened last week to fire all 5,000 striking doctors if they did not return to work. Seven union officials were jailed for a month during the strike.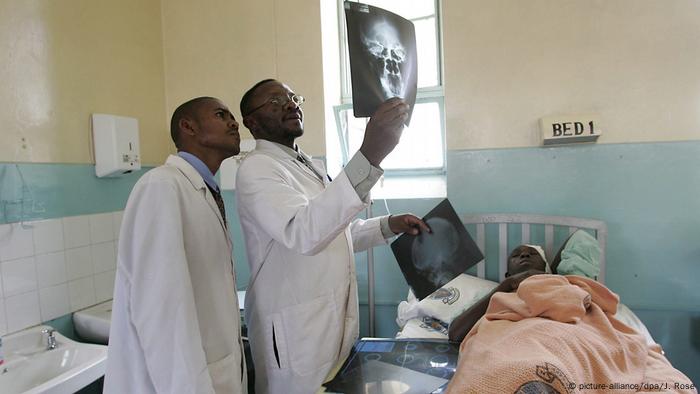 Kenyatta National Hospital in Nairobi
Doctors blame corruption
The Kenyatta administration had fiercely criticized the strike, saying that it could not afford the pay raises the doctors demanded.
Union representatives argued that if the government representatives cracked down on corruption, there would be more than enough money for public servants, such as doctors.
Lawmakers are currently investigating allegations that large amounts of money have gone missing from Kenya's Ministry of Health and the National Youth Service.
High-ranking politicians in Kenya have often been criticized for seeking medical treatment abroad, circumventing the dire state of medical facilities in their home country.
Kenyan members of parliament are among the most highly paid in the world, taking home around 1.2 million Kenyan shillings ($11,500) per month, including allowances, according to Justine Musila of the parliamentary watchdog website Mzalendo. According to the World Bank, the average Kenyan earns less than one percent of that amount.
mb/jm (AP, Reuters)