The film "3,096 Days" opens with a banal spat between a mother and her daughter. Ten-year-old Natascha slams the door behind her and walks to school. Her mother goes to the balcony to call down to her with a reconciliatory word, but Natascha is already gone.
A few minutes later, Natascha passes Wolfgang Priklopil in a small white truck. She utters a short cry as he drags her into his vehicle and drives off.
It wasn't an act of spontaneity. Priklopil, an unemployed communication engineer, had been planning the abduction. In his house in a suburb of Vienna, he'd already built a two-by-three-meter (roughly 6-by-10-foot) enclosure in the basement to keep his prey - presumably forever.
The room was only accessible through a small tunnel into the house, where the door was blocked by a huge safe. Priklopil lived alone, though his mother occasionally dropped by to bring him food.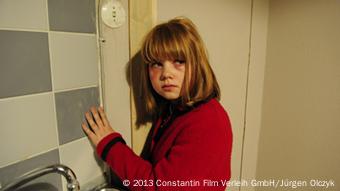 Much of the film takes place in Natascha's basement enclosure
The police searched for Natascha for weeks. Two officers even visited Priklopil's house, because his white truck matched the vehicle they were looking for. But it was a common model and the police moved on - even though Priklopil didn't have an alibi for the time of the kidnapping.
Finding a willing cast
What began on March 2, 1998 near Vienna became one of the most spectacular abduction cases worldwide - and was bound to show up on the silver screen. However, it wasn't an Austrian producer, but German filmmakers Bernd Eichinger and Martin Moszkowicz who bought the rights to the story. Eichinger convinced director Sherry Hormann ("Desert Flower") to take on the harrowing project.
Getting started was a challenge, though, since many Austrian and German actors had reservations about working on the film.
"A number of actors rejected the part of Wolfgang Priklopil without even looking at the screenplay," remembered Hormann. "If you don't have a problem playing Nazis, serial killers or pederasts, then why not someone like Wolfgang Priklopil?"
The filmmaker finally found a stellar cast in Great Britain and Denmark. English actress Amelia Pidgeon as the young Natascha and Antonia Campbell-Hughes as her older counterpart shine with a combination of strong will, fragility and adaptability.
For Campbell-Hughes, "3,096 Days" was a unique challenge: "I saw someone who managed to survive with a strong will and sense of courage. Sometimes I was pretty depressed and struggled with my feelings, because everything was so complex."
Depicting a villain
Danish actor Thure Lindhardt portrays Wolfgang Priklopil not as someone who is insane, but who suffers from borderline personality disorder and who commits acts of violence and humiliation in many different variations.
As brutal as Priklopil is when he beats Natascha, shaves her hair, or denies her food for days on end, Lindhardt sees in him a man who is also a victim.
"He had a very possessive mother and was not a normal person," said the actor. "For me, the story is not just about power, but also about love - especially the absence of love. People who don't receive love can start abusing their power to get it."
The film was made in English and then dubbed for German cinemas. Much of it takes place, of course, in a very small space, but Hormann managed to give the potentially claustrophobic scenes in the basement a large degree of psychological depth.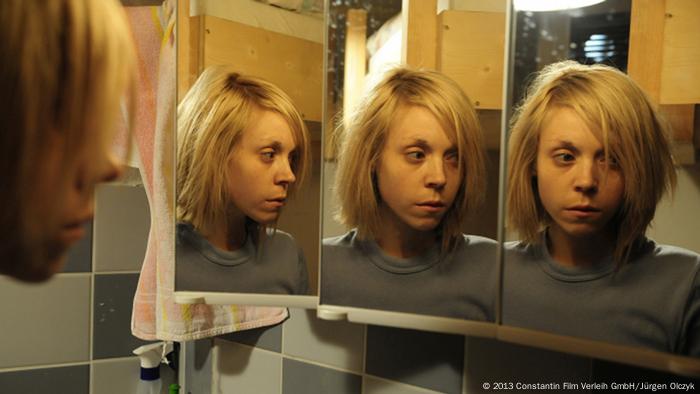 Antonia Campbell-Hughes gives a nuanced performance as the older Natascha
In her cage, Natascha manages to develop survival strategies and even does things like play school. She lays dresses over two chairs to represents other students and "teaches" them. She puts on a mock talk show where she explains how she managed to escape her abductor, and asks Priklopil whether he is lonely "up there" in the house.
Natascha creates distance between herself and the traumas she experiences - even though she is shoved back into reality again and again. "3,096 Days" is a drama through and through. But when the two celebrate Christmas or birthdays together and Priklopil captures on video how Natascha opens her gifts or helps out with the renovation of the roof, the film takes on a surreal element.
Sharing her story
Now 26 years old, Natascha Kampusch has spoken about her experiences in interviews and even hosted a talk show for a short time. Together with authors Heike Gronemeier and Corinna Milborn, in 2010 she published her autobiography, "3,096 Days in Captivity," which served as the basis for Hormann's film. The first screenplay was drafted by Eichinger, but finished by Ruth Thoma after Eichinger died in January 2011.
Kampusch was clear from the beginning that her story could not be retold with complete accuracy, but it was important to her that the film conveyed her feelings. And she said she was satisfied with the result.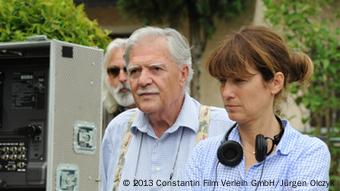 Sherry Hormann (right) and cameraman Michael Ballhaus
"It reminded me of how I approached my captivity," she told film distributor Constantin Film, "How I tried to make by own little home by painting a dresser on the wall, or a door handle or mailbox so that I could feel at home again."
The most impressive scenes created by Hormann and cameraman Michael Ballhaus came with Natascha's first outings. Slow-motion camera techniques capture how she watches people on the street and contemplates how she can call for help. Then Priklopil takes her hand and says, "Don't even think about it."
It was in the restroom at a ski slope that Natascha finally asks someone for help. But the Polish woman didn't understand German. Then, for the first time in 3,096 days, Natascha finally managed to get away from her captor as he was busy washing his truck. Just a few hours later, Wolfgang Priklopil threw himself in front of a train.
"3,096 Days" by Sherry Hormann opens in German cinemas on February 28, 2013.