Known for his long, drawn-out sentences and penchant for ambiguity -- which make his works a real challenge for translators -- Kafka authored "Metamorphosis" (1915), "The Trial" (1925), "The Castle" (1926) and a slough of other well-known short stories and novel.
His main characters lead complicated, nightmarish lives -- perhaps not unlike his own -- in an impersonal society.
Kafka was born on July 3, 1883 to a middle-class Jewish family in Prague, which was part of the Austro-Hungarian Empire at the time.
His first language was German and all of his literary works were composed in German, but he also spoke fluent Czech. After starting with chemistry, the young Kafka earned a degree in law at the German-language university in Prague.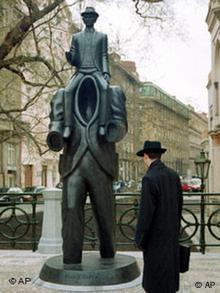 The Prague monument was inspired by Kafka's 'Description of a Struggle'
He went on to work for the Worker's Accident Insurance Institute for the Kingdom of Bohemia -- a relatively undemanding job that left him time to write.
Together with his close friends and fellow writers Max Brod and Felix Weltsch, Kafka formed a Prague writers group which was part of the broader Prague Circle of German-Jewish writers.
Death wish ignored
Much of Kafka's writing was left incomplete and unpublished during his lifetime, with the notable exception of Metamorphosis and several of his short stories.
Always somewhat frail physically, Kafka developed tuberculosis in 1917 and went through a series of treatments over the next several years. The illness later worsened and he died on June 3, 1924 -- apparently of starvation, as the condition of his throat made eating too painful.
His body was returned to Prague, where he was buried in the New Jewish Cemetery.
Before his death, Kafka instructed Max Brod, who also served as his literary manager, to destroy all of his manuscripts. Instead, Brod oversaw their publication. Kafka's works quickly attracted attention and acclaim.
Click on the radio report below to hear more about Kafka's influence on the city of Prague.