In Kenya, the freedom of the press is guaranteed by the country's constitution which was signed in 2010. But in response to what they called continuous harassment, threats and assaults directed towards the media, hundreds of journalists in Mombasa downed their tools and demanded that their rights to perform their jobs be respected.
Journalists in Nairobi held a similar protest at the beginning of September after two journalists were killed in unclear circumstances.
In Mombasa, the journalists were calling for more protection and freedom to carry out their work and demanded that cases of harassment and violence of journalists be investigated.
"Journalism is a profession and not a crime. We journalists will continue doing our part and we don't want to be threatened anymore," said George Otieno, a reporter from Baraka FM in Mombasa.
Since 1998 at least six journalists have died under mysterious circumstances in Mombasa. The protestors were led by Star Newspaper Bureau Chief, Maurren Moody.
"We have had many cases of threatening messages, especially now when there is insecurity and the campaign period. One of us was locked up in a police cell for reporting on a story about the presidential guards. Benard Wesonga was kidnapped by people who introduced themselves as police officers and later died under mysterious circumstances," said Moody.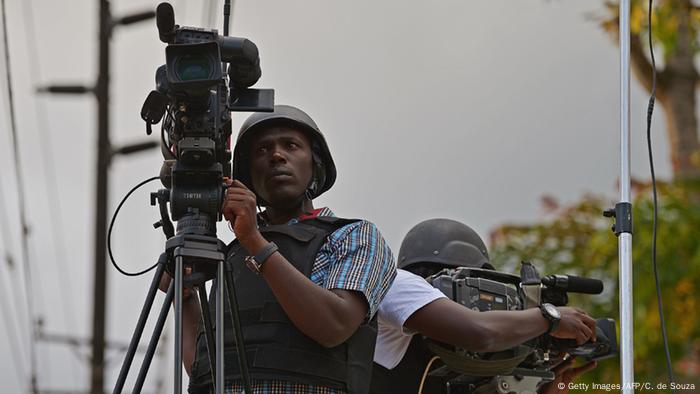 Journalists in Kenya feel that their ability to do their jobs is being threatened
The journalists further accused federal and local governments as well as politicians for continued harassment because of what they deemed as biased reporting against them. The journalists delivered a petition to Regional Coordinator Nelson Marwa who later reiterated the government's commitment to providing a conducive environment for freedom of press as enshrined in the constitution.
"As enshrined in the constitution, the government respects the freedom of speech and you have a right to constructively criticize and if I am not performing you have that right to inform the public," he said
Journalists attacked
Journalists in Kenya have worked to expose rampant corruption in government and many see these attacks as a backlash from those that have been implicated in these reports.
"Those who attack journalists want to ensure that certain information is not made public," said Henry Maina, the East Africa director of Article 19, an organization defending freedom of expression and information around the world.
"Instead of dealing with the information [reported by the journalist], they attack the journalist who has brought this information to the fore," he added.
Journalist Jack Oloo took part in the protest two weeks ago in Nairobi. He said that he will continue to participate in all planned demonstrations.
"When one of us is harmed all of us are affected as a family," he said.