Azerbaijan's highest court ordered on Wednesday that Ismayilova be released following international protests, overturning a 2014 court sentence.
The 39-year-old had become a symbol of defiance, praised by human rights and free speech organizations around the world.
"Azerbaijan's Supreme Court threw out Ismayilova's initial seven-and-a-half-year sentence and handed her a three-and-a-half-year suspended sentence," said her lawyer, Fariz Namazly. "We expect her to leave the prison later in the evening."
Silencing the press
Ismayilova, a prominent journalist known for exposing corruption among the ruling elite, was sentenced for embezzlement, illegal business activity, tax evasion and abuse of power.
She was well-known in particular for investigating the wealth allegedly amassed by President Ilham Aliyev and his family, who have ruled the country since independence from the USSR in the 1990s.
Her conviction and prison sentence were widely seen as retribution for her reports on alleged corruption involving Aliyev.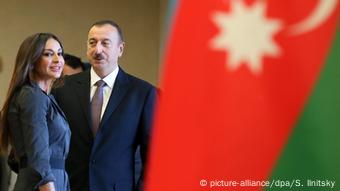 Azerbaijan's President Ilham Aliyev (C) looks at his wife Mehriban Aliyeva (L)
Cracking down
Rights groups have criticized the Azerbaijani government for cracking down on independent media and opposition activists.
US-based NGO Freedom House, for example, said there are now more than 80 political prisoners in Azerbaijan.
The Committee to Protect Journalists (CPJ) has listed Azerbaijan among the 10 most censored countries in the world.
International pressure
RFE/RL and other media and human rights groups worked to advocate for Ismayilova's release since her arrest in December 2014. Amnesty International called her a "prisoner of conscience."
Vienna-based International Press Institute, the CPJ in New York, and the Associated Press and the Press Association of the UK were the most vocal.
"Today's ruling ordering Khadija Ismayilova freed is cause for celebration, but doesn't erase the rank injustice of her imprisonment for a year and a half on retaliatory charges," CPJ Europe and Central Asia Program Coordinator Nina Ognianova said.
Ismayilova won the 2015 PEN/Barbara Goldsmith Freedom to Write Award.
jbh/sms (AP, AFP, Reuters)