DW: You're just coming back from the non-racing period. Are you fit for the new season?
John Degenkolb: Sure. I had a great vacation and didn't touch a bicycle for four weeks. But since the training camp in Majorca in December, I'm back at a proper level. Now is the time for the final preparations. My team and I are going to Calpe in Spain for a supplementary training camp. We'll be working on the basics again, but we'll also be training for intensity. Your body has to sense that things are getting started. There are only four weeks until the first race of the season.
Sounds like business as usual. But a lot must have changed for you since your two big wins last year?
I think I shouldn't let that drive me crazy. It was an unbelievable year. So much happened. But I think the reason I was so good was that I did things the way I always did. So I need to keep on doing that and not get influenced into doing something else.
Were you afraid you'd rest on your laurels?
I'm not that type of guy. I'm ambitious enough. Above all, I don't want to disappoint myself. I want to show what I can do.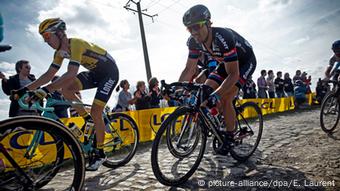 2015 was Degenkolb's breakthrough year
What are your goals for this season? Do you aim to win another classic, like the Tour of Flanders?
It seems that everyone is trying to tease some statement to that effect out of me. I think my last interviews came across the wrong way. It's not as though the only aim of my preparations is to with the Tour of Flanders. As in past years, my goal is to maintain top form from Milan-San Remo to Paris Roubaix. I'd like to be competitive in all those races and win one of cycling's so-called "monuments." That's my main aim. If it's the Tour of Flanders, it would complete a triple. That would be great. But if it doesn't happen, it's also not a problem.
You seem as though you haven't changed much since your two big wins last year. But how are you seen by other professional cyclists?
Of course, people perceive you differently after big wins. I feel a greater sense of responsibility. It makes a difference if you're tasked with directing a race or closing gaps with your team. Other teams are more aware of us. Everyone knows that I'm a good sprinter. So it's more difficult for the team and me. But year for year, we've gotten better. We can tackle these challenges and take on the responsibility.
You'll also feel the burden of responsibility at the Tour de France. In the past you've come very close to winning a stage, but it's never worked out. What do you need to do to get your big breakthrough?
I don't know exactly. I'm just going to try to be as prepared as possible and keep pace in the sprints. I think it's just a matter of time until I win a stage. But I'm not going to drive myself crazy over it. I'm going to try to stay relaxed. Maybe last year, after such a successful spring, I simply wanted too much. Perhaps I was over-motivated.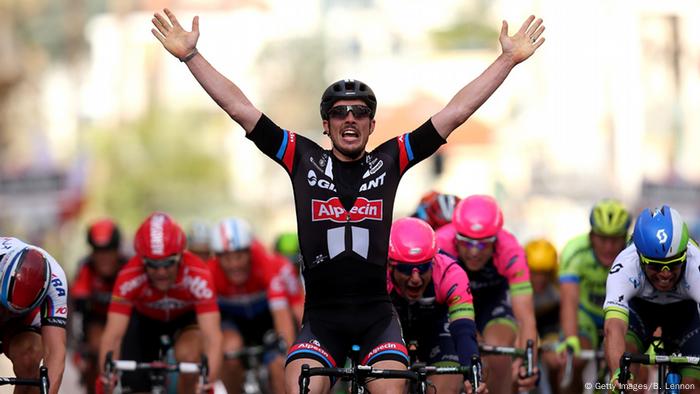 Degenkolb's speciality is the sprint, and he has his sights set on another major title
The Olympics follow immediately after the Tour. You've never won an Olympic medal in street racing. But are you even in the hunt, given how hilly the course in Rio de Janeiro is?
I think a medal in Rio is a bridge too far. Most likely, I have no chance there. The Olympics are a major goal, of course, because I consider them the world's biggest sporting event and they only happen every four years. But at the moment, I don't have a realistic hope of winning anything.
Winning a world championship might be a more realistic goal. In the past, you've come close to winning the world champion's rainbow jersey. What little adjustments can you make in order to win it this time round?
I think I need more of the measured calm I possessed at the Milan-San Remo and Paris-Roubaix, where I didn't get flustered and made the right decisions at the right times. I didn't have that at last September's world championship in Richmond. I let myself get lured out of my defense too early. I had to work too hard and fight the wind too much. Although you have to admit that Peter Sagan was at a different level and toyed with everyone else. Still, the rainbow jersey remains my great dream.
Let's cast a glance even further in the future. In 2017, the Tour de France will kick off in Germany. What will that mean for cycling in your home country?
It's a really big deal for us. It also shows that we're doing something right. And it's nice for German cyclists that we get a chance to take part in it. For many professional German cyclists, it's a dream come true.