In front of 16,000 people, who greeted him with a standing ovation, the German cyclist Jens Voigt rode nearly 31.7 miles in an hour to take the new world record on Thursday, beating the Czech racer Ondrej Sosenka's previous record by just under a mile. The result makes Voigt, who turned 43 on Wednesday, Germany's first one-hour distance record holder and brought his 18-year career to a close.
"I am overjoyed," Voigt told the audience. "Now I can go home, take my kids in my arm and say, 'Papa has accomplished something.'"
Sosenka accomplished his record on a bicycle that had to closely resemble the one used by the Belgian great Eddy Merckx for his record 49.431 kilometers in 1972. However, the Union Cycliste Internationale now allows records using current track pursuit bikes.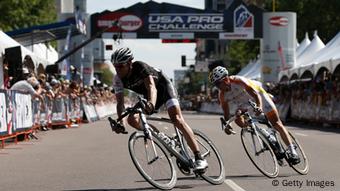 Voigt is bowing out from professional cycling
"I have my record," said Voigt, who ended his racing career three weeks ago in Beaver Creek, Colorado, at the USA Pro Challenge. "Now the others must show that they can do it better."
Voigt competed in his 17th and final Tour de France in 2014, he was the oldest rider in the field and equalled the longevity records of 17-time competitors George Hincapie and Stuart O'Grady.
mkg/msh (AFP, dpa, SID)