Whether its pizza or sushi that you're craving, in the eternal city, it is as it is elsewhere in the towns and cities of Europe, the food can be brought straight to your door within half an hour, courtesy of delivery companies like Foodora and their army of cross city bike riders.
"Flexible hours. Competitive pay. It's exercise. It's fitness. Most of all, it's incredibly fun," claims the company's recruiting website for aspiring couriers. However, a group of Italian workers have decided to challenge that statement — in court.
"I have been left for a month and a half without any shift at all," Giorgio (name changed), 26, says. At the time he joined Foodora, he was looking for stable work after having several temporary jobs. With the delivery service, he worked roughly 12 hours a week, enough to make ends meet.
However, when Giorgio and his fellow riders tried to negotiate better conditions, a dispute arose with Foodora. "We want to be reintegrated, with full employment benefits," he says. Sergio Bonetto, the lawyer who assists them, says the riders were punished by not being given any more shifts.
Bonetto believes that the company has complete control over the activity of the couriers, their time sheets and their contracts, and these are all typical characteristics of "subordinate employment," which essentially means normal, fixed employment.
"But, in order to make up the normal salary of €1,300 ($1,515), these guys had to work roughly 300 hours per month," he says.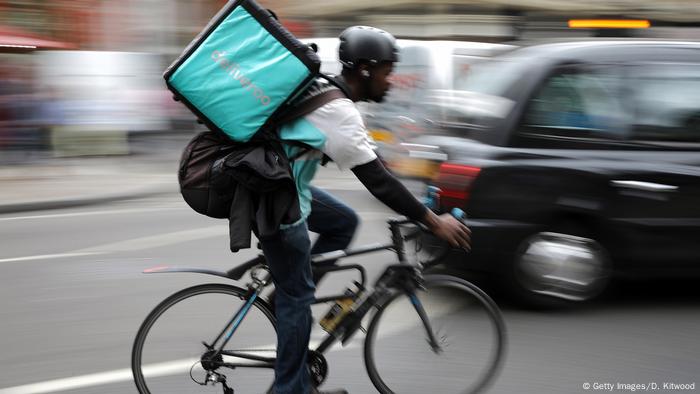 When UK-based food delivery service Deliveroo tried to change its pay rate, British riders protested en mass
'Employer-coordinated freelance contracts'
Julian Dames, Foodora's co-founder and chief marketing officer, says riders are a "core part" of the company: "We want to work closely with them in improving the dialogue and their daily working conditions. Our business model relies on autonomous and flexible forms of work."
According to Foodora, delivery costs accounted for roughly 70 percent of their revenues of €44.9 million in 2016.
"At Foodora, we always choose the most protective legal set up for our riders. In Italy for example, the company enrolls riders on an employer-coordinated freelance contract, which grants better protection than normal freelance shifts, covering social security costs and, in addition, we provide a third party liability insurance," Dames says.
Foodora was launched in Munich in 2014 and came to Italy the following year. Discontent began to surface in the spring of 2016, when riders sent a letter with some demands to the company. "Nothing happened," Giorgio says. "In September, we found out that Foodora had started a massive recruitment campaign, with a different pay rate."
In protest at what they regarded as Foodora's poor treatment, Giorgio and some his colleagues started to slow down their service, distributed pamphlets with their demands, and asked clients to boycott the company.
Giorgio and his five fellow couriers who brought Foodora to court believe they were discriminated against because they voiced their dissatisfaction openly with their colleagues. Foodora claim to have abided by Italian law at all times, however.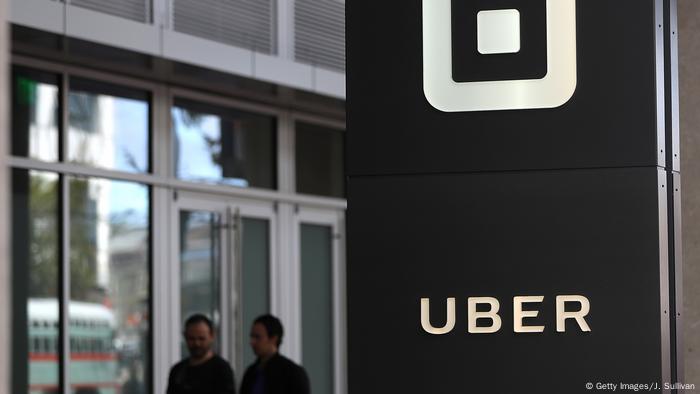 Uber is among many gig economy companies fighting for their right to trade
'Tip of the iceberg'
This dispute with Foodora represents the tip of the iceberg, as conflicts with platform based companies have piled up across Europe in recent years. When UK-based food delivery service Deliveroo tried to change its pay rate, British riders protested en masse.
Similar protests spread to Turin, Milan, Barcelona, Valencia and Madrid. In April 2017 the German Free Workers Union (FAU) launched their food delivery platform organizing campaign in Berlin, where Foodora is headquartered.
"Our main demand is to get paid for bike repairs, so we are currently demanding a kilometer-pay system," says Leonhard Herrmann, 34, who works full time as a courier in Berlin and leads the negotiations with Foodora.
However, their situation is different from those of his Italian colleagues: "We are employed on a one year limited contract. We get sick days, we have holidays, we are insured by the employer," he says.
Many of the problems stem from the different ways in which couriers are professionally categorized across Europe.
"Platforms normally classify workers as independent contractors, and in some case this is correct, but in other cases this is a misclassification of the employment relationship," Valerio De Stefano, Professor of Labor Law at KU Leuven, says.
A change in the status of the workers could force the company to apply national labor laws regarding wages, working hours and collective bargaining, leading to a change of its core structure. This is what Giorgio and the other Italian riders want.
Although this is the first time that a court will rule upon a food delivery company such as Foodora or Deliveroo, the conflict among platform based companies and national legislatures is long underway in London, where the employment tribunal rendered verdicts against Addison Lee, Uber, City Sprint, Excel and eCourier.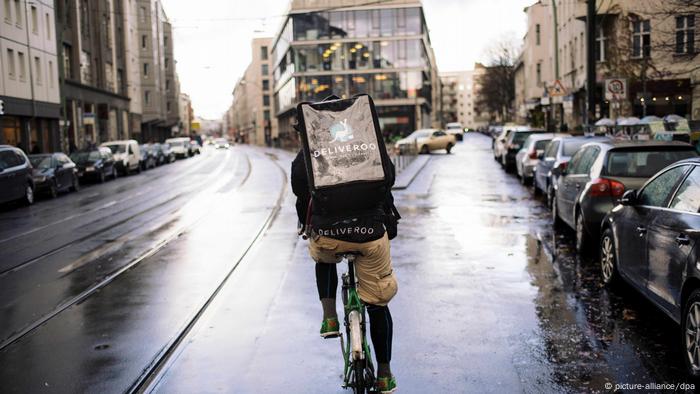 According to the EU, workers should have a clear labor contract that will define their working conditions
Discontent with gig economy
Discontent with gig economy firms found expression within the walls of the European Parliament, which in January adopted a resolution to extend the European pillar of social rights to platform based work.
"The gig economy can bring many new jobs, but we need to make sure that these don't undermine the basic features of the EU social model," Maria Joao Rodrigues, the member of the European Parliament who drafted the resolution, said.
Read more: New Zealand claims first pizza delivery by drone
According to the EU, workers should have a clear labor contract that will define their working conditions. They also are entitled to full protection when it comes to risks, such as unemployment or illness.
After months of exhausting negotiations, the new law is expected to be proclaimed on November 17 in Gothenburg. "We expect the European Commission to legislate on the issue of social protection and the revision of the directive framing labor contract by the end of the year," Rodrigues says. If everything goes smoothly, she hopes it will be in law before the next European elections.
In the meantime, Giorgio keeps on riding the streets as a freelance courier, now with Foodora's rival Deliveroo. They opened a branch in Turin and were looking for experienced couriers. "I still like to work on my bicycle, in the open air," he says.