A group of Italian anarchists claimed responsibility on Thursday for two parcel bomb explosions at foreign embassies in Rome, according to Italian media reports.
Two people were injured by two separate package bombs that exploded at the Swiss and Chilean embassies in Rome earlier on Thursday, prompting police to conduct checks at all the embassies in the Italian capital.
The first incident occurred around midday at the Swiss embassy, when a bomb exploded in the mailroom as an employee opened it. Reports said the 53-year-old man was taken to a hospital in central Rome and risks the amputation of one or both of his hands, but that his life was not in danger.
Three hours later an employee at the Chilean embassy was lightly injured after opening the second package bomb.
Anarchists claim responsibility
The ANSA news agency reported that a group calling itself the Informal Federation of Anarchy (FAI) had written a note claiming the blasts.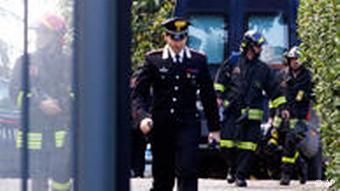 Police were checking embassies across Rome after the explosions
"We have decided to make our voice heard with words and deeds. Let us destroy the system of domination. Long live the FAI," said the statement, found near the site of one of the bombings.
The FAI is well known to Italian authorities. In 2010, intelligence services referred to the group in a statement to parliament as Italy's "main national terrorist threat of an anarchist-insurrectionist type."
Police sweep Rome's embassies
ANSA reported Thursday that police conducted sweeps at all the embassies in Rome. A suspicious package at the Ukrainian embassy was first thought to be another bomb, but police later said it was a false alarm.
Thursday's bombs followed the discovery of a crude device designed like an explosive on an empty subway car in Rome on Tuesday. Tests later showed that the device had no detonator and contained no explosives.
Chilean Foreign Minister Alfredo Moreno condemned the blast in the Chilean embassy, calling it "an act of terrorism" and "cowardly."
He added that the bomb had been adressed to a cultural association, where it severely injured the hands, face and abdomen of Cesar Mella, a Chilean citizen.
Suspected connection to Greece
Italy's Interior Minister Roberto Maroni said on a television talk show that he thought a suspected connection to similar bombings in Greece last month was the "right track."
"Greece, Italy and Spain have seen the presence of anarcho-insurrectionalist groups that are tightly linked," he said. "They are very violent."
Last month 14 package bombs were discovered at various embassies across Athens and in transit to places abroad, including one sent to the chancellery in Berlin.
The package, which arrived on a day when Chancellor Angela Merkel was not in Berlin, was identified as being suspicious during a routine check at the chancellery's mail center. The bomb did not go off.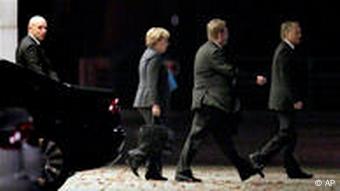 One of 14 parcel bombs discovered last month was sent to the German Chancellory
Greek police believed the attacks were connected to a left-wing militant organization, and arrested six people on suspicion of being connected to the group. A Greek police official said he had not yet received any request for help from Italian police.
No likely connection to jihadist groups
Analysts said while the parcel bombings in Greece and Italy may have been similar, there were not necessarily any direct connections.
"Given the similarities with the recent parcel bombs in Greece following anti-austerity protests, this could be a copycat incident by domestic activists," said Samantha Wolreich, a European risk analyst at the UK-based advisory firm AKE.
Author: Andrew Bowen, David Levitz (AFP, AP, dpa, Reuters)
Editor: Holly Fox