On Sunday, as part of the Frankfurt Book Fair, David Grossman is to receive this year's Peace Prize of the German Book Trade, an annual award honoring figures whose work advances the cause of peace.
"The committee honors the Israeli writer David Grossman, who has actively shown his commitment to the cause of reconciliation between the Israelis and the Palestinians," the judge's association said.
"In his novels, essays and short stories he seeks to understand and to describe the attitude of the unlike-minded and not just his own view. David Grossmann gives a literary voice to the difficult task of living together, a voice that is heard around the world."
Grossman makes the impression of being shy and writes constantly, no matter where he is.
"Writing a novel is the most complete experience that I know, and it takes three or four years. It allows me to explore any possible place - whether in myself or even within other people that would otherwise be inaccessible to me," he said.
Although his books explore a variety of perspectives and have clear social dimensions, Grossman said the audience plays no role in his writing process.
"When I write novels, I write them as though no one would read them. That's a very, very intimate act."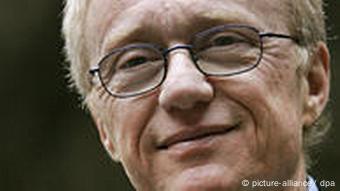 Grossman's most recent publication in English is called "To the End of the Land"
A broad spectrum
The Peace Prize of the German Book Trade is awarded to individuals active across a range of fictional, artistic or academic genres and is endowed with a 25,000 euro ($35,000) prize. Winners within the last decade include philosopher Juergen Habermas, Nigerian author Chinua Achebe and the German painter and sculptor Anselm Kiefer.
David Grossman's own career has ranged across several fields. The son of a bus driver, he studied philosophy and theater before beginning a career in radio in Israel. For 14 years, he worked on a popular children's radio program and published children's books.
Grossman first published a novel titled "The Smile of the Lamb" in 1983 that took up what later became the central theme of his engagement as an author and public figure: the relationship between Israelis and Palestinians.
From fiction to personal tragedy
In May 2003, Grossman began a novel with a storyline that would eventually become the basis of tragedy within the author's own family. The book dealt with fears shared by many Israeli parents about the lives of their sons.
Grossman's son Jonathan had just finished his military service in 2003, while his youngest son Uri was preparing to begin service half of a year later. The novel was still unfinished in 2006, when Uri was killed by Hezbollah forces just before the end of the Second Lebanon War.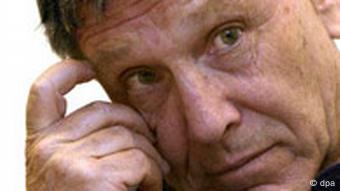 Fellow Israeli author Amos Oz won the German Book Trade Peace Prize in 1992
After his son's death, Grossman didn't know if he could bring himself to finish the book. He shared that with his friend, colleague and fellow Peace Prize-winner Amos Oz, who told him, "The book will save you, David."
In November 2006, Grossman stood before tens of thousands of demonstrators in Tel Aviv and gave expression to a dominant sentiment in the country:
"One of the worst things the war did was to make it seem even more as though there is no king in Israel these days and that our leadership is hollow," he said. "Our military and political leadership is hollow."
Difficult reconciliation with Germany
Although he is appearing Sunday at the Frankfurt Book Fair to receive the honor, Grossman recalls that reconciling himself with Germany was difficult.
"For many years, I refused to come to Germany. Due to the Holocaust, it was difficult for me to hear the language and travel there," the writer said.
"When I began writing in Israel, I said to myself, I can come to Germany once a book has been published there under my name. In my eyes, one of the most terrible things that happened during the Holocaust is that the people were murdered anonymously and had no names."
Author: Clemens Verenkotte (gsw)
Editor: Kate Bowen