Israel's president Reuven Rivlin struggled Sunday (22.06.2015) to reconcile leading actors with the newly appointed culture minister after two weeks of vitriolic protests over whether the government must fund art critical of its policies.
The meeting at the Jerusalem residence of the president followed a Friday theater awards ceremony in Tel Aviv when Minister Miri Regev announced, above the heckling of her audience, "Whoever wants to slander this country will do it alone. We will not be partners to it, and we will not fund it."
Arab theaters targeted
At the center of the tussle is the funding of two Arab theaters, one in the northern coastal city of Haifa and the other in Jaffa, the historical Arab city that is today part of Tel Aviv. The public and bitter debates between actors and Regev have underscored the hawkish tone of Benjamin Netanyahu's fourth government, sworn in last month.
In Haifa, the Al-Midan Theater staged "Parallel Time," a play from the perspective of Palestinian prisoners, including Walid Daka, who killed Israeli soldier Moshe Tamam in 1984. A panel of Israeli educators reviewed the show and approved funding its performance for Israeli high school students. The play ran for a year in a theater supported by the Haifa municipality and the Ministry of Culture.
Funding suspended
Yet after a Haifa city council member complained about its content, newly-installed Education Minister Naftali Bennett announced he would remove the play from the cultural program for students. Days later, Regev announced her ministry would suspend funding to the entire theater because of financial mismanagement and because the playwright of "Parallel Time" maintains contact with Daka.
Ortal Tamam, the niece of the slain Moshe Tamam, told the Associated Press that the show seemed to glorify a murderer of Israelis. "Our government shouldn't be the one to fund this play and honestly I don't understand all those people who think that someone who kidnapped a 19-year-old kid should be called a hero," Tamam said.
Theater director assistant Mahasen Rabus told DW all of the theater's approximately $600,000 budget was provided by either the government or the Haifa municipality - and that funding will likely be gone by next month. Rabus said the theater is scrambling to find new sources of funding from other Palestinian citizens of Israel, or from the European Union.
"We have to give our people shows that talk about our culture," said Rabus. "We are citizens here. So it is our right to have our funds from the Ministry of Culture and the municipality of Haifa."
Disputed settlements
As the Al-Midan controversy erupted, Regev threatened to cut state funding to a Jewish-Arab children's theater in Jaffa after its founder, Arab-Israeli actor Norman Issa, refused to perform in a settlement in the West Bank. Israel conquered the West Bank, east Jerusalem and the Gaza Strip in 1967. Palestinians see the West Bank as the heartland of a future state, and say Israeli settlements are an obstacle to their independence.
To protest against Regev, Issa wrote on Facebook, "As an Arab Israeli, you cannot expect me to go against my conscience and perform in disputed places."
Regev said she saw no difference between performing in settlements and other locales in Israel. "Whoever believes in coexistence - coexistence is right for Tel Aviv-Jaffa, the Jordan Valley, Nazareth, Rahat and Kiryat Gat," she told Israel Radio, naming several Jewish and Arab towns in Israel.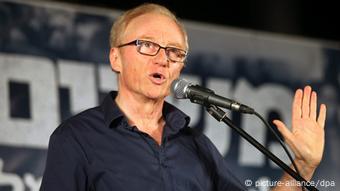 Israeli novelist David Grossman fears isolation of the country
War of words
Israeli actors staged an emergency meeting last week to discuss what they said is encroachment on their freedom of expression. Actor Oded Kotler warned that under Regev's Likud, Israel would be a nation with no books, plays or poetry, just a "herd of straw- and cud-chewing cattle."
Regev fired back, calling Kotler and his colleagues, "tight-assed, hypocritical and ungrateful, and I don't feel like working for them."
President Reuven Rivlin hosted Regev, Kotler, Issa and other leading actors Sunday in his Jerusalem residence in an effort to reconcile the two sides. Kotler skipped the group portrait, and told Army Radio he felt the differences between Regev and the artistic community had not been resolved. He said Regev behaved, "a bit like a Caesar, in a different society, on a different political infrastructure."
While the war of words has blown over, artists in Israel say they feel a witch hunt in the air.
Writer David Grossman warned that, "the danger in the view that Regev represents is in restricting our contact with reality and with our complex situation." He spoke to the Israeli daily Haaretz. "If such a process continues and if our isolation in the world increases, Israel will become nothing more than a militant, fundamentalist and inward-looking sect on the margins of history:"