A crowd has gathered in the heat and dust of Moralzarzal, a small town outside Madrid. Accompanied by the strains of a brass-band, and lots of animated shouting, a bullfight is going on in the town's small bullring. This is a special training fight for very young matadors. The fighter in the center of the ring is just 14 or 15 years old and he is facing a young bullock. He and the other teenagers who are taking part are the next generation of bullfighters who hope one day to appear in the great bullrings of Spain and Latin America.
The ear of honor
The star of the show is Jesus Mejias. Just 14 years old, he has been awarded an ear from the bull he has just killed - a great honor for any matador. Jesus is ambitious and explains he hopes one day to appear in the bullrings of Madrid and Seville.
But like so many industries affected by Spain's economic crisis, bullfighting is struggling. With six million people out of work, even many hardcore aficionados are thinking twice about paying the 40 or 50 euros required for even a half-decent seat in a major bullring. And as demand dwindles, so too does the number of bullfights: in 2007, over 2,500 were held across Spain. This year, there will be fewer than 500, a drop of around 15 percent on 2012 alone.
Bullfighting spells disaster
Take the bull breeding farm, La Dehesa, also near Madrid. Among the cows mooing, and birds singing, the owner Juan José Rueda told DW how his sector is one of the most affected by the crisis.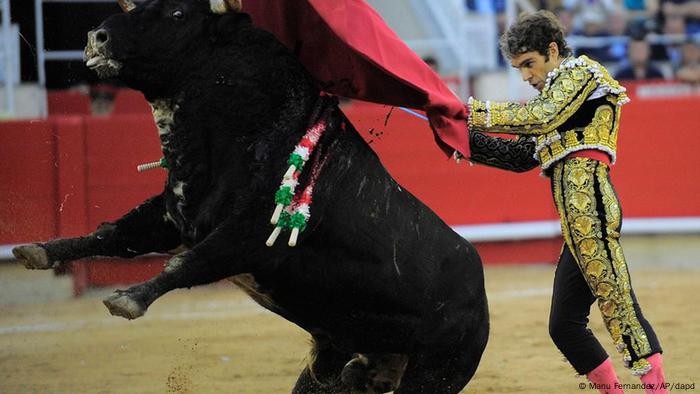 Ever fewer people are prepared to pay 40 to 50 euros to see a fight
"The bullfighting sector overall is extremely depressed because the economic crisis has hit it hard. We went from a period when there were an enormous number of bulls being produced to keep up with demand. But demand for bulls has dropped by nearly 50 percent due to the crisis."
Rueda's family have bred bulls on this farm for over a century and his animals have appeared in some of Spain's biggest bullrings. His children and grandchildren want to continue the family tradition, but he fears for the future, even whilst planning ways to survive.
"This is a tragedy. And a tragedy is what happened to the Titanic. But on the Titanic there were two groups of people: those who drowned and those saved themselves - and we need to grab the life raft to survive. We need to adapt, we need to produce fewer bulls, improve their quality, and we need bullfighters to work whenever they are needed."
Killed by indifference?
But even if it does manage to adapt, bullfighting isn't just battling the economic crisis. It's also facing indifference. A recent poll showed that fewer than 30 percent of Spaniards support it. Bill Lyon is an American bullfighting expert who has lived in Spain since the early 1960s.
"You must consider this: until the early part of the 20th century, the only real entertainment in Spain was the theater and bullfighting. There wasn't football, there wasn't television, there weren't movies, people didn't have cars. Now bullfighting's just one more urban entertainment," competing and losing against much more popular, and often less controversial pastimes.
Animal rights activists are fighting for a ban
Meanwhile, animal rights campaigners have made themselves increasingly heard. Last year, the region of Catalonia joined the Canary Islands in banning bullfights. The Basque city of San Sebastian has also stopped staging them.
Economics beat passion and history
Bullfighting stirs strong emotions among those who oppose it and others who believe it is a crucial part of Spanish culture. Often, animal rights campaigners will exchange angry words with people arriving at a bullfight. Sharon Nunez is the spokeswoman for animal rights group, "Igualdad Animal". She told DW, "bullfighting will definitely disappear - we can see it in Catalonia, for example. This has made the bullfighters and the bullfighting industry more aware of how weak they really are and how much they have to fight back."
And it's not just because of the cruelty; she has economic reasons too for her prediction that it is a dying sport.
"We can see a growing amount of people who are opposed to bullfighting, we're in the middle of an economic crisis and people are beginning to question why, for example, 129 million euro coming from the European community go into bullfighting - this means the people in England, the people in France are paying for bullfighting. So I mean it's just a matter of time of people being aware of how much this is costing and how much it's hurting animals."
The one thing that both supporters and opponents of bullfighting do agree on is that it's in trouble. And if things continue the way they are, it looks as if the coming years could see Spain's fiesta suffer a long, painful, death.