Emperor Qin would have been so proud.
Or would he? The emperor, who ruled from 259-210 BC and who created the army to guard him in the afterlife, is more than likely spinning in his very crowded grave at the moment. It seems that while many of his troops have gone on to achieve more than he hoped for in life and death, some unscrupulous types have infiltrated his army to make money off his legacy.
According to officials in Beijing and the city of Xian, the Terracotta Warriors on show at the Museum of Ethnology in the German port city of Hamburg are fakes. The Chinese officials revealed that noone had given permission for the 2,200-year-old clay soldiers to be sent to Germany for an exhibition.
The Beijing office that administers Chinese cultural treasures said it appeared the soldiers on display in Germany were illegal copies.
Leading pirate nation pirated
It's an ironic twist of fate, given China's propensity for looking the other way when pirate goods go on the market.
"There appears to be a problem with intellectual property rights," a spokesman said -- reportedly with a straight face.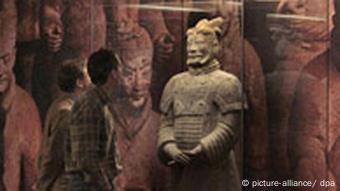 "Shiver me timbers -- I've been pirated"
An official at the provincial cultural affairs office in Xian, the city where the warriors were discovered in 1974, added, "We do not have an exhibition of terracotta soldiers in Germany."
He said the only exhibition in Europe at present was the one at the British Museum in London.
"If there were an exhibition in Germany, then we would have known about it because they would have required permission from us," he said.
Fake warriors up for grabs
Rumors that the eight figures exhibited in Hamburg might not be genuine first surfaced in Germany last week.
The Hamburg museum said it had demanded an explanation from the German-based Leipzig Center of Chinese Arts and Culture, which organized the display.
Copies of the genuine Terracotta warriors are readily available in China. One factory in Xian offers life-size imitations for 1,500 yuan (138 euros, $220).
The cultural office in Xian said overseas institutes that want to display terracotta soldiers have to present a plan in advance. The display in Hamburg definitely did not have official approval, the office said.