Despite deep austerity measures that have left the Eurozone country in political limbo, official data shows bullish growth.
"Preliminary estimates indicate that GDP in volume terms increased by 7.8 percent for the year 2015," the Central Statistics Office (CSO) said in a statement.
Ireland's rapid recovery from a 2010-2013 international bailout despite imposing deep cuts in social spending as austerity measures has surprised many economists.
Thursday's report found that gross domestic product - driven by the exports of 1,000 Ireland-based multinationals - experienced its strongest growth since 2000 during Ireland's construction-driven Celtic Tiger boom.
Reckless bank lending to property developers forced Ireland to nationalize credit-starved banks starting in 2008 and ultimately overwhelmed the state's ability to finance itself.
Ireland's uncertain politics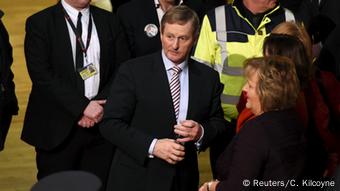 Failure to elect a leader would leave Prime Minister Enda Kenny's government in office - but unable to wield power - during several weeks of coalition negotiations.
Yet voters opted to punish Prime Minister Enda Kenny's Fine Gael party during the February 26 election. Its only viable partner - in terms of a number of seats - would be the second largest party, Fianna Fail.
But both party's ideological roots can be traced back to opposing sides during Ireland's civil war and the two have never shared power in republic's 94 years since independence from the British Empire.
Failure to elect a prime minister would leave Kenny's five-year-old government in office but unable to wield power during several weeks of coalition talks.
Underscoring their political impotence, three of Kenny's ministers lost their parliamentary seats in the election yet remained in the cabinet of the weak caretaker government.
Political analysts expect Kenny to tender his resignation this week if he fails to secure a parliamentary majority. But Ireland's head of state, President Michael D. Higgins, would be obliged to reappoint him immediately as caretaker premier and the squabbling is expected to continue for weeks.
jar/jil (AP, AFP)