Irish Justice Minister Dermot Ahern confirmed the decision after talks with US Ambassador Dan Rooney on Wednesday.
"In making this decision I am conscious of the intention of the United States to close the center at Guantanamo Bay, in part by transferring detainees no longer regarded as posing a threat to security but who cannot return to their own countries, to other countries willing to accept them."
He added that there was no definite timetable yet, but said the transfer of the two was expected within the next couple of months.
US President Barack Obama has vowed to close the controversial camp within one year after taking office in January 2009. The international community had widely welcomed his decision but proved hesitant when it came to accepting former inmates.
The US has called on countries to accept some of those inmates who would be in danger of persecution and torture if they were sent back to their home countries.
Europe divided over accepting detainees
On June 15, the European Union agreed on a deal with the US for transferring Guantanamo detainees, but left it to the individual governments to decide whether or not they would accept any inmates. Several EU member states have expressed their willingness to accept some of the former prisoners, among them Portugal, Hungary, France, Spain and Italy.
In Germany, there is continued debate over the security risks should Berlin accept any of the Guantanamo inmates. Human rights groups have urged the government to support the closure of Guantanamo with deeds rather than only words, but the ruling grand coalition has so far rejected the idea mostly citing security concerns.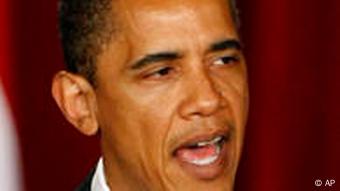 US President Barack Obama has pledged to close the controversial camp by the beginning of 2010
Amnesty International has welcomed the decision by Dublin, saying the two men had spent eight years in detention without conviction of any crime.
"It is really important that Ireland is prepared to step up and help to make that happen," Ireland chief of Amnesty International Colm O'Gorman said. "We understand they will be two Uzbek nationals who are being resettled and we think that is appropriate."
"Despite eight years of detention, the two men involved in this cases have not been convicted of any offences. I think we have to accept therefore their innocence," he said.
There are still more than 200 detainees at Guantanamo Bay. In recent months, Palau, Saudia Arabia and Bermuda also accepted several of the former prisoners. The camp was set up in 2002 so that terror suspects and so-called enemy combatants could be held outside US jurisdiction.
ai/AFP/dpa
Editor: Neil King