The coming year will see the total defeat of "Islamic State" in Iraq, Iraqi Prime Minister Haider al-Abadi said on Monday in a speech broadcast on state TV, praising the capture of the western city of Ramadi.
"2016 will be the year of the big and final victory, when Daesh's presence in Iraq will be terminated," he said, using a derogatory Arabic acronym for the "Islamic State" ("IS") militant group which in 2014 siezed control over large parts of Iraq and neighboring Syria.
"We are coming to liberate Mosul and it will be the fatal and final blow to Daesh," he added, referring to the largest city under Islamic State control in northern Iraq.
The army on Sunday announced it had seized the center of Ramadi from Islamic State, scoring its first major victory against the militant group.
Speaking after security forces retook the city of Ramadi, al-Abadi said, "If 2015 was a year of liberation, 2016 will be the year of great victories, terminating the presence of Daesh (IS) in Iraq and Mesopotamia."
The prime minister congratulated the security forces on their recapture of Ramadi, which they had lost in May following a devastating jihadist onslaught. Al-Abadi said that the city could have been freed "much earlier" but Iraqi forces had moved cautiously to limit civilian casualties.
It was not clear whether Mosul would be the next battle or whether Iraqi forces would seek to retake other towns and cities first.
A breakthrough victory
The governor of Anbar province, Sohaib Alrawi, said 80 percent of the city, which lies some 70 miles (112 kilometers) west of Baghdad, had been liberated.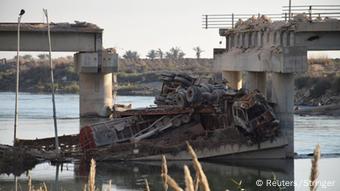 War damage in Ramadi
Television footage showed army vehicles in the city's devastated streets. The US-led coalition against IS released what it said were drone images showing the Iraqi flag being raised over the government complex in the city center.
US officials also congratulated the Iraqi security forces for what they described as "their continued success against ISIL in Ramadi," using the abbreviation for the Islamic State in Iraq and the Levant.
Coalition spokesman Colonel Steve Warren hailed the military success calling it "the result of many months of hard work by the Iraqi Army, the Counter Terrorism Service, the Iraqi Air Force, police, and tribal fighters."
Iraqi military expert, Safaa al-Obeidi, told dpa news agency that the recapture of Ramadi would open the way for government forces to retake other areas of Anbar province, possibly starting with the city of Fallujah just west of Baghdad.
bik/mg (Reuters, dpa, AFP)