German artist Gerhard Richter's painting "Kerze" from 1982 sold for $16.5 million (12 million euros) at a Christie's auction in London on Friday. It was a price even the artist called "absurd," "silly" and "incomprehensible."
The worldwide art market has developed rapidly in the last few years, much to the gratification of big auction houses such as Christie's and Sotheby's.
In the first half of 2011, Sotheby's reported its best ever figures, with consolidated sales of $3.4 billion (2.5 billion euros). "That is really a sign of a strong art market," said Gallus Pesendorfer, director of Sotheby's Cologne office.
Art owners who want to sell their collections are also turning a tidy profit at the moment. This year alone, more than 440 artworks were sold for more than $1 million each. It was a completely different story only a few years ago when the market was much more reserved, even during the financial and economic crises of 2008.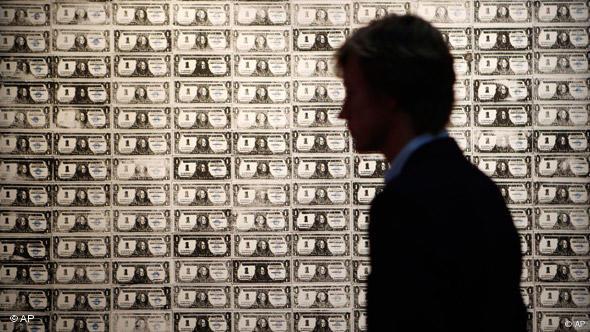 Warhol's '200 One Dollar Bills' soard in value within 25 years
No-one trusted the banks
Pesendorfer argues there was never really a crisis in the art market. The problem was that art traders' confidence wobbled as they lost faith in the banks.
"At the time, I had a few customers on the phone telling me, 'I'd like to sell, but I don't know what to do with the money, where I should invest it,'" he told Deutsche Welle.
Putting money in art is hardly a new idea. A few years ago, it became a trend for private banks and financial advisers in large banks to advise their clients to invest in the oeuvre of some long-dead genius. For those with less to invest, there were even art investment-funds and multiple stakes in individual works.
Many banks, however, have abandoned the art trade in the past few years. It wasn't lucrative enough for them, with only a few people able to afford the million-dollar investments. On top of that, trading art is no less risky than trading stock and requires much more patience.
Don't just buy anything
Well-established artists, like the so-called "Old Masters" or the Impressionists, have a stable market value. By comparison, the more contemporary the artist, the more uncertain is his or her market value.
"Certainly, the value of some contemporary artists is not always what it is predicted to be," Pesendorfer said.
That said, certain modern artists, like Warhol and Francis Bacon, have a established place in art history and enjoy a solid market value.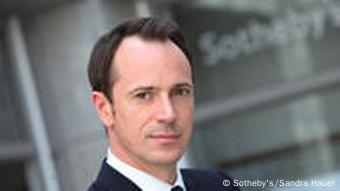 Pesendorfer believes budding art buyers should have some passion for art
Their works can easily fetch eight-figure prices these days. Warhol's "200 One Dollar Bills," for instance, was worth $385,000 in the mid-1980s but was sold for more than $40 million just a few years ago.
Pesendorfer believes it's important for budding art-buyers to have some kind of passion for art to make the right decisions. "Customers should think about what they personally like, inform themselves and only then buy," he said.
In times when not even government bonds are considered safe, investors should look for alternatives, of which great works of art are one.
And even if the paintings purchased by aspiring art investors should not increase in value over time, at least they have something nice to hang on their walls at home.
Author: Chi Viet Giang / bk
Editor: John Blau