In two open letters, more than 100 academics from Britain, Canada, Germany, the Netherlands, the United States and other countries have called on German Federal Prosecutor Monika Harms to release sociologist Andrej H. from a Berlin prison. They fear the Humboldt University researcher is being charged with membership in a terrorist group on the basis of his work.

"We strictly oppose the use of violence as endorsed and practiced by the 'militant group,'" one of the letters reads. "At the same time, however, we strongly object to the notion of intellectual complicity adopted by the federal prosecutor's office in its investigation. …Such arguments allow any piece of academic writing to be potentially incriminating," the letter goes on to say.

Police detained Andrej H. around two weeks ago in conjunction with the arrests of three other men. Germany's federal prosecutor's office has accused them all of membership in an extreme leftist organization called "militante gruppe" (mg).

Questionable reasoning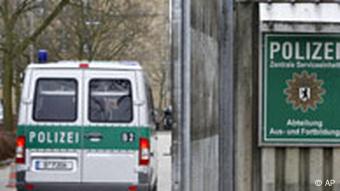 Andrej H. has been in solitary confinement for two weeks, his supporters say

The prosecutor's office said Andrej H. had met with a suspected member of mg twice and that the researcher used "keywords and phrases" in his academic texts that had appeared in documents written by mg, such as the term "gentrification," according to news reports. It also said that "as an employee of a research institute, [he] had access to libraries where he could inconspicuously do the research required for the founding of a militant group."

Mg has claimed responsibility for over two dozen arson attacks, mainly in the Berlin area, since 2001. The three other men were arrested on July 31 as they tried to set fire to some German army trucks, the prosecutor's office said. They have also been accused of attempted arson.

Eminent signatories

"There is no concrete evidence of Mr. H. being a member in the 'militant group,'" sociology professor Hartmut Häussermann, the author of one of the letters and a colleague at Berlin's Humboldt University, told German news agency DPA.

In his work, Andrej H. focuses on the sociology of cities. His most recent book looked at power relations in urban renewal in Berlin in the 1990s.

The two letters calling for his release have been signed by numerous eminent academics, including Mike Davis, Peter Marcuse, Claus Offe, Saskia Sassen and Richard Sennett.