At least 13 people were killed and around 40 were injured on Sunday, when explosions hit three churches during morning Mass in the Indonesia's second-largest city, Surabaya.
Police said the three churches were hit by a family of suicide bombers with links to the local extremist network Jamaah Ansharut Daulah (JAD), which supports the "Islamic State" (IS) jihadist group. Authorities warned that the death toll is likely to rise.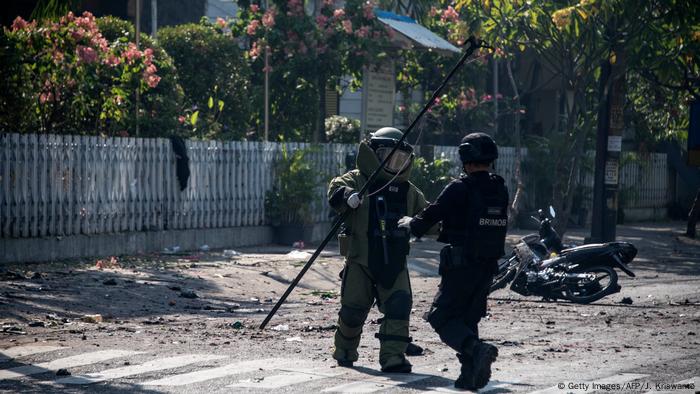 The three blasts took place within 10 minutes of each other
What we know so far
Police have told reporters the attacks were carried out by a family of six, including two teenage sons, 18 and 16 years old, and two daughters, 12 and nine years old.
The first bomb detonated at the Catholic Church of Santa Maria at about 7:30 a.m., after the two sons rode motorcycles into the church and detonated explosives they were carrying.
That was followed by a blast at the Diponegoro Christian Church, where the mother and her two daughters blew themselves up after entering the church grounds clad in niqab face veils and with bombs strapped to their waists.
The final bomb went off at Surabaya Center Pentecostal Church, where the father drove a bomb-laden car into the church facade.
Indonesian television showed debris scattered around the entrance of one of the churches and police closing off certain areas as crowds began to gather.
Authorities said the family had recently returned to Indonesia from Syria.
"Islamic State" claimed responsibility for the attacks, according to the jihadist group's Amaq news agency. It did not refer to the family and said there were only three attackers.
In a separate development, police said they had killed four JAD militants and arrested two others hours before the church attacks.
'Cruel and inhuman'
Indonesian President Joko Widodo was quick to condemn the attacks and the use of children as suicide bombers. "These terrorist attacks are cruel and inhuman," Widodo said after visiting victims at a hospital in Surabaya. "There are no words to describe our sorrow for the victims of this act of terrorism."
One witness at the Diponegoro Christian Church told local media that the mother and her daughters were initially denied access to the church grounds by security guards, but they insisted and forced their way inside. "Suddenly she hugged a civilian then (the bomb) exploded," the witness said.
In Jakarta, the Indonesian capital, an official for the country's Church Association expressed outrage over the bombings, but called on people to let the police carry out its investigation.
Indonesia's two largest Islamic organizations also condemned the attacks, saying they went against the basic tenets of Islam.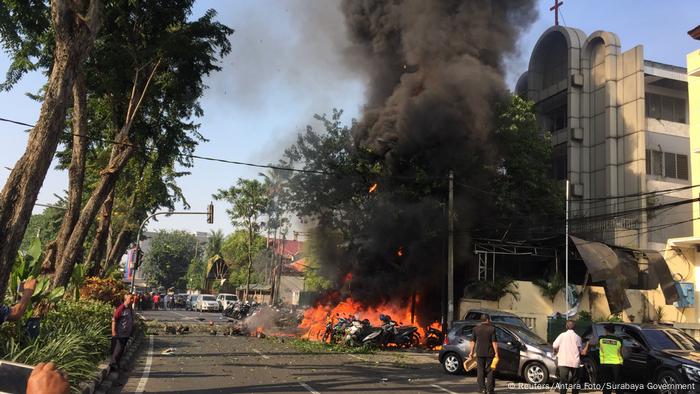 A line of motorcycles burn outside the Pentecost Church, into which the father of the family had driven an explosives-laden car
How many Christians are in Indonesia? Indonesia is a predominantly Muslim country, but it is also home to significant numbers of Christians, Hindus and Buddhists. Christians make up around 9 percent of the total population of 260 million people.
Minorities targeted by extremists: In recent years, extremists have targeted Christians and other minorities through a series of attacks. The rise of IS in the Middle East has at the sam time reinvigorated local terror networks. Sunday's attacks were the deadliest to target Christians since a series of bombings on Christmas Eve in 2000 killed 15 people and injured nearly 100 others.
Attempted crackdown: The Indonesian government has carried out a sustained crackdown on militant extremists, particularly since al-Qaida-affiliated radicals bombed a tourist section of Bali in 2002, killing 202 people.
amp, dm, jcg/aw (dpa, Reuters, AFP, AP)
Each evening at 1830 UTC, DW's editors send out a selection of the day's hard news and quality feature journalism. You can sign up to receive it directly here.