The last time India was guest of honor at the Frankfurt Book Fair, in 1986, the buzz was about Salman Rushdie. Largely credited with putting India on the global literary map in 1981 with "Midnight's Children," Rushdie was the undeniable star of the show.
But now, as India steps up to bask in the spotlight at Frankfurt again, the focus is on a new crop of writers in English.
Many have moved beyond the traditional Anglophone market to enter European territory, as publishers from France, Germany, Spain, Italy and the Netherlands have trickled into India in recent years in search of the next literary sensation.
"The Empire writes back"
Ahead of the Frankfurt Book Fair, German publishers in particular have been scrambling to buy Indian rights and have undertaken a wave of translations.
More than 25 translated works of fiction have emerged in the German market alone this year. They include books by Altaf Tyrewala, Samit Basu, Suketu Mehta, Vikram Chandra, Kiran Nagarkar, Thrity Umrigar, Shobha De and Raj Kamal Jha.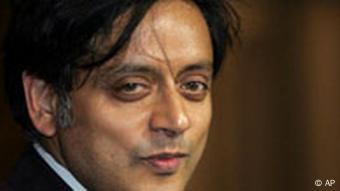 Shashi Tharoor is both a diplomat and a writer
"Indian writing in English has become a bit of a trend," said Shashi Tharoor, author and until recently, Indian candidate for the post of the next UN secretary general, speaking at a recent press conference in Berlin. Tharoor, whose books "Show Business" and "Nehru: The Invention of India" were translated into German this year, compared the boom to the flowering of Latin American writers in the 1970s and '80s. "In a way it's like the Empire writing back," he said.
Ulrike Netenjakob of the Munich-based Karl Blessing publishing company, which published British-born Delhi-based author Rana Dasgupta's acclaimed "Tokyo Cancelled" in German this year, said much of the current interest could be traced, not just to Rushdie, but to Arundhati Roy's Booker-winning "The God of Small Things."
Published in 1997, it sold no less than four million copies by the end of that year and was translated into more than 25 languages, from French to Finnish.
"Roy set a huge trend because she had that rare combination of being both a huge commercial and critical success internationally," Netenjakob said. "That helped to shed an altogether different light on Indian literature."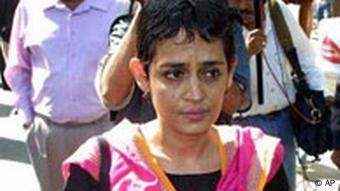 Arundhati Roy broke all records with her "God of Small Things"
In all fairness, writers such as Rushdie, VS Naipaul and Vikram helped prepare the ground for Roy's phenomenal success. But nobody was prepared for the stampede of literary agents and publishers from London and New York into India, signing up a string of writers who had barely begun work on their novels.
"The flavor of the season"
The current European interest in India may not compare to the post-Roy publishing frenzy, but there's no denying that India is the "flavor of the season," as Nuzhat Hassan, head of the Delhi-based National Book Trust put it earlier this year.
Indeed, Europe's surge of interest in Indian writing in English is also an acknowledgement of the country's growing economic clout and its embrace of global capitalism -- a fact that has also caused upheaval in its chaotic cities and social fabric.
"Few countries offer the kind of material that India has to offer. We have a fractured past, a difficult present, which seeps into our writing," Tarun Tejpal, author and editor of Delhi-based weekly paper Tehelka told Reuters last year. "It's also a reflection of the increasing economic power of India. Culture rides on the coattails of economic efflorescence," he said.
Tejpal's "The Alchemy of Desire" sold 14,000 copies on the French market within a month of its release last year. The story of a journalist who discovers a collection of diaries written by an American woman in an old colonial home in the Himalayan foothills has also been translated into Spanish, Italian and German.
Indian writer Namita Gokhale, one of the participants at the Frankfurt Book Fair, said it was hard to ignore India any longer.
"India is a huge paradox -- both unchanged and changing, modern yet rooted in tradition -- and our literature has so much to say about this radical sense of change."
Bombay beckons
Peter Ripkin, head of the Frankfurt-based Society for the Promotion of African, Asian and Latin American Literature, pointed out that recent Indian works in English marked a strong departure from both its stereotypical image of oriental wisdom as well as the social critiques and rural themes spawned by writers such as Mulk Raj Anand and R K Narayan in the 1970s and '80s.
"Today we have novels that dwell on a 'shining India' and vibrant cities like Bombay and their problems. That naturally appeals to a broader swathe of readers."
Indeed, stories emanating from the 12-million strong city of Bombay, or Mumbai as it is known today, seem to have captured the imagination of German publishers.
At least six authors whose works reflect a slice of the teeming city have been translated into German ahead of the book fair -- Altaf Tyrewala's slick debut "No God in Sight," Vikram Chandra's epic crime thriller set in Bombay's underworld, "Sacred Games," socialite Shoba De's "Starry Nights," Shashi Tharoor's ironic take on Bollywood, "Show Business,"and Thrity Umrigar's "The Space Between Us."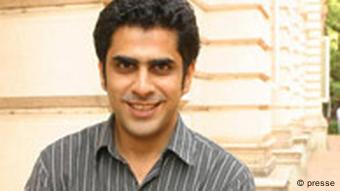 Altaf Tyrewala's "No God in Sight" has received rave reviews
Among them the not yet 30-year-old Altaf Tyrewala has become something of a darling of the German media. His crisp, fast-paced seemingly unconnected narrative accounts of ordinary people in Bombay, from a Muslim abortionist, a shoe shop employee to a villager forced to leave the countryside and come to the city have received strong praise from German critics.
Jens Mühling of Berlin's Tagesspiegel newspaper who travelled to Bombay to meet Tyrewala, a former software specialist who studied in the US, said the city had a magnetic pull on the West, despite its problems.
"Of course it's dirty, stinking and crazily full, but it was still fascinating to search for the Bombay that's the subject of so many books and reconcile it with the real Bombay," said Mühling. "The city is just overflowing with stories."
Some point out that though the book fair is a chance to shine light in dark corners of India's literary landscape, the current crop of writing is just the tip of the iceberg.
"We're still only at the threshold of a hugely exciting continent with a vibrant literary scene," said Michi Strausfeld of the Suhrkamp publishing company, one of Germany's largest which has translated a host of titles in the build-up to the book fair.

"Writers definitely do much more than politicians and the media in helping outsiders understand their country," she said.