Tucked away beside a large public bus station in the heart of the city of Bangalore in India's southern Karnataka state, the Yeshwantpur slum is relatively quiet, with most of its residents away at work or school. Kousalya Velayutham, 14, sits alone at the doorway of the tenement building, washing clothes. For the past few days, the young girl has not been going to school because she got her period for the first time.
It's a common tradition in many parts of India to make menstruating girls sit outside the house for five days at a stretch. She sat at the doorway under a temporary shelter made of banana leaves.
"I was not supposed to come inside," Kousalya said. "I could come in only to sleep. Even then I had to sleep near the door, and was not allowed to come further inside. All of god's photos in our house were covered with a cloth, and I was not supposed to look at them for nine days. They say god will get angry."
Kousalya's family are migrant laborers from neighboring Tamil Nadu state. She shares her single room with two siblings, a widowed aunt and her three children. Kousalya's father abandoned the family, and her mother returned to their native village, leaving Kousalya and her brothers to the care of her Aunt Lalitha.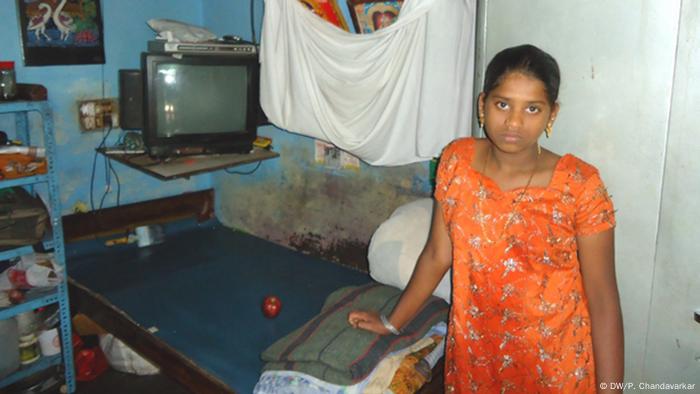 When Kousalya mentruated for the first time, all religious pictures were covered
While Lalitha works as a domestic helper during the day, Kousalya helps out by doing all the household chores.
As per tradition, Kousalya was allowed to enter the house again after the first five days, but she has other restrictions she must adhere to for nine days. She is not allowed to leave the slum - a protection against "evil spirits." But since the tenement they live in has only a small bathing area and no toilet, Kousalya is allowed once a day to walk over to the public toilet at the nearby bus station that is used by all the slum dwellers. Here, too, Kousalya was told to cover her face with her dupatta or scarf.
Being a 'big girl' now
"The boys and men walking around the bus station shouldn't see my face. I have got my period for the first time, so now if anyone sees me they say I will get pimples all over my face."
Apart from this list of instructions, Kousalya knows little else about the changes in her body. All she knows from her aunt and teachers at school is that she is considered a "big girl" now and has to be careful around boys and strangers, although no one has told her why. She is happy that she got new clothes and jewelry for the occasion.
Meanwhile, about half a kilometer (0.3 miles) away, Kousalya's school, the T.A. Higher Primary, is in full swing.
Kousalya's classmate Shalini Bhavu discovered during class about seven months ago that she was bleeding. The teacher sent Shalini home, where her mother told her that she had got her period.
Like Kousalya, Shalini also had to go through the ritual of sitting outside for five days. The ancient Hindu tradition was designed to give women a break from the housework. But over the years, the practice has often been interpreted differently. Women and girls were told that their bodies were "polluted" during this time, so they had to sit away from others and avoid chores like cooking so as not to "contaminate" others.
School drop-outs
Today, the practice still continues in rural areas and in poor or less educated families in India. But it's limited to girls having their period for the first time.
Shalini often misses a few days of school every month, complaining of severe stomach ache and heavy bleeding. She says she hasn't gone to a doctor yet.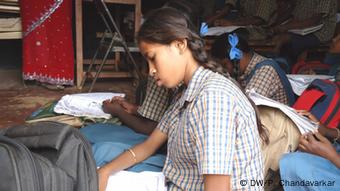 Shalini's family has allowed her to continue her education
"My mother told my aunt that I had severe bleeding, but my aunt said that I don't need to go to a doctor," she says. "She just told her to give me some nuts, sweets and spicy food, and the bleeding will be reduced."
Shalini is lucky: she has her parents' support to continue her schooling. This is not the case for many other girls in India. Many parents take their daughters out of school when they reach puberty and start planning to marry them off. One of the reasons is the fear that they might become pregnant at an early age, especially since there have been cases in Bangalore of older men taking advantage of young adolescent girls in schools.
Teachers at the T.A. Higher Primary School say they have not had cases of dropouts in their school. Sometimes, however, they have to go to students' homes and convince the parents to send their daughters to school.
Up to a quarter of Indian girls are estimated to drop out of school for good after they reach adolescence. Some stay away from school during their menstruation because they can not afford proper menstrual protection like sanitary napkins.
Sex education not part of Indian culture?
Earlier this year, the state of Karnataka introduced sex education in the school curriculum. But whether it will be implemented by teachers and school authorities in the state remains to be seen.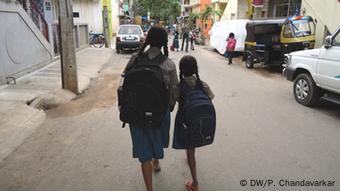 Shalini (left) and her sister on her way back home from school
Shalini's English teacher Shanthi Baskaran says it would help to equip the girls with more awareness on how to behave around strangers and how to identify sex abuse, so they can prevent or report such incidents.
Yet she says a complete education on the female anatomy, puberty-related changes and sexuality would not be appropriate, because discussing these issues openly is not part of Indian culture.
"The children watch TV and know too much nowadays. If we just casually mention the word 'love' or 'affection' in class, they start getting all kinds of wrong ideas," she told DW. "We don't feel comfortable discussing these things in detail. My personal opinion is that we don't need sex education. If there is a need to educate them about the do's and don'ts of sexual behavior, let other people come and teach them."