Justice Rajiv Shakdher on Wednesday ruled that the accounts be unblocked, allowing Greenpeace to continue receiving domestic donations after the NGO had warned that its struggling India branch could be forced to close down.
"We are enormously relieved that the court has given us this lifeline," Samit Aich, Greenpeace India's executive director, said after the ruling.
The Indian Home Ministry last month withdrew Greenpeace India's foreign funding license and put a freeze on seven of the organization's bank accounts, accusing the NGO of violating rules governing international financial transactions.
Specifically, authorities said group had spent unaccounted money on obstructing development projects, and that funds received by the group were being transferred into personal accounts and not into the accounts approved to receive foreign donations under the country's Foreign Control Regulation Act.
Greenpeace India rejected the allegations and subsequently took the government to court. It argued that donors in India -which it says contribute around 70 percent of the branch's funds - had been unable to deposit money into local Greenpeace accounts.
Activist groups stifled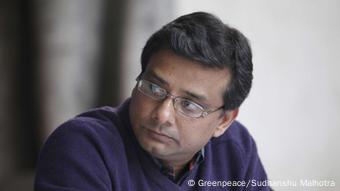 Greenpeace India director Aich 'relieved' after the decision
The impact of the government's actions had been so severe, the NGO said, that there were no funds left to pay more than 300 staff across India. It also warned that, after 14 years in the country, it may be forced to shut down its operations.
Wednesday's ruling means the group will now be able to access two bank accounts for immediate transactions.
The conservative government of Prime Minister Narendra Modi, in office for just over a year, has been accused of waging a campaign to suppress dissent and weaken international and domestic NGOs.
Aich said on Wednesday he hoped the ruling could mark "a fresh start" in Greenpeace's relationship with the Indian leadership.
The organization's workers in India have often clashed with the government over the country's reliance on coal and the environmental impacts of deforestation and nuclear projects.
nm/msh (Reuters, AFP)