About a month ago, in late July 2014, Rwandan president Paul Kagame reshuffled his cabinet. He said a reorganization would bring about a better working climate and promote development and wealth in the East African country. The move triggered a series of events which quickly attracted the attention of international human rights organizations. One such event was the news on Monday (25.08.2014) that three high-ranking members of the armed forces had been arrested, including Rwandan Defense Force Colonel Tom Byabagamba. The reason given for his arrest: crimes against state security.
What is new about this is that it is no longer just supporters of the opposition who find themselves targeted by police, but also people considered to be allies of President Kagame. "Support for him in his own ranks is disappearing rapidly," Gerd Hankel, an expert in international law at the Hamburg Institute for Social Research, said in an interview with DW. "Kagame is highly controversial. What was promised to the Rwandans and to his own close circle, has not been fulfilled. People are waiting for clear signs of progress."
Such signs could be a willingness to share power or steps towards a general democratization, Hankel added. But Kagame, who has been in power for 14 years, and his country seem far removed from such prospects.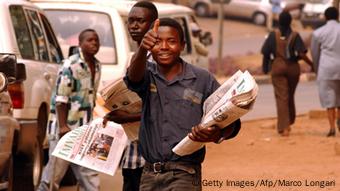 'There are no longer any free media in Rwanda'
"We have been closely observing the situation experienced by human rights activists, members of the opposition and also the Rwandan media for several years," said Gesinde Ames from the Ecumenical Network for Central Africa, an association of German church organizations. "There are no longer any free media in Rwanda," Ames said. "There is a state organ which is under strict control. And it is the same with opposition movements." Any attempts to counter Kagame by establishing new political parties were quickly stifled, with "party leaders arrested and sentenced to life imprisonment," Ames told DW.
People 'don't just disappear'
Any meaningful opposition has been reduced to a single party, the Democratic Green Party, which is frequently the target of initimidation attempts. Party leader Damascene Munyeshyaka has been missing since June. The government denies any involvement.
Minister for Internal Security Sheik Mussa Harerimana plays down the case. "These are just accusations intended to tarnish the government's reputation. People don't just disappear here," he told DW. "But there are people who are in prison as the result of criminal activities. While they are in detention awaiting trial, it seems that relatives claim they have disappeared."
US-based human rights watchdog Human Rights Watch (HRW) sees this differently. A recent report says that dozens of Rwandans have gone missing since March this year. HRW accuses the Rwandan army and police of removing critics of the Kagame regime.
For years observers have criticized moves to suppress any opposition and increasing acts of intimidation. International law expert Hankel says recent events show this has clearly intensified. According to Hankel, Kagame's enemies are no longer to be found abroad, such as the Rwandan Hutu FDLR militia (Democratic Forces for the Liberation of Rwanda), but close to Kagame himself. "There is a large group of politicians who are not happy with the course Kagame is taking but who have no opportunity of articulating this in public. And so conspiratorial groups are created."
Diplomacy takes a one-sided view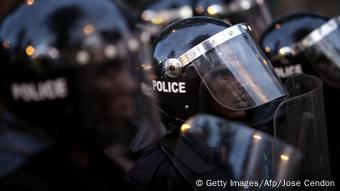 Rwandan police are said to be involved in 'disappearances' of Kagame critics
Internationally, Rwanda's economic successes and victories in the battle against corruption are highly praised. But, says Hankel, this is an incomplete picture. "What is not seen is that nothing has changed for ordinary Rwandans. Wealth is concentrated in the hands of just a few."
Gesine Ames from the Ecumenical Network for Central Africa calls for more straight talking from Europe and from Germany in particular. There is a need for "more discussions between Rwanda and donor nations, especially concerning the human rights situation," she said. "Human rights are universal and Rwanda must also respect them. The international community has an obligation to remind Rwanda of this."