The suspects arrested Sunday were detained in raids on wildcat Jewish settlement outposts in the occupied West Bank as part of "the investigation into the events that occurred in Duma," Israeli police said in a statement.
It did not give the number of arrests or the suspects' identities.
Israeli public shocked by killings
Lawyers for the suspects criticized the use of jail sentence without trial, arguing it was a political ploy to appease an Israeli public shocked by a July 31 arson attack in the West Bank village of Duma that killed an 18-month-old child and his father.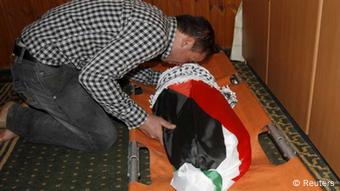 Eighteen-month-old Palestinian Mordechai Mayer was killed after his family's house was set on fire in a suspected arson attack
The child's mother and four-year-old brother were also critically wounded in the firebombing of the family's small brick and concrete home that was gutted by fire. The perpetrators also spray painted a Jewish Star of David on a wall along with the words "revenge" and "long live the Messiah."
Israeli human rights activists who advocate on behalf of Palestinians have criticized the government's jailing of suspects - no matter the nature of the crime - for failing to grant any right of appeal.
"It is carried out based on an administrative order only, without indictment or trial, and the detainee cannot defend himself against the allegations as the evidence is classified," a statement by human rights group B'Tselem said.
Security Cabinet targets 'Jewish terrorism'
In a related development, Meir Ettinger, the grandson of the late US-born ultranationalist Rabbi Meir Kahane, and Eviatar Slonim, another Jewish extremist, were placed under administrative detention for their suspected involvement in an extremist Jewish organization, the Israeli Defense Ministry said.
The two, who are in their early 20s, were arrested last week and another suspected Jewish extremist, Mordechai Mayer, was placed under six-month administrative detention last week.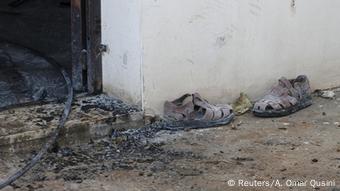 The child's mother and four-year-old brother were also critically wounded in the firebombing
Authorities have called the arson attack an act of "Jewish terrorism," and Israel's Security Cabinet has approved the use of harsher measures to combat the trend, including administrative detention, which allows the holding of suspects for lengthy periods without charge.
The measure has been mainly used against Palestinians suspected of involvement in militant groups, and - until now - rarely against Jewish Israelis.
jar/cmk (AP, Reuters)