The controversy started when Ilkay Gündogan and Mesut Özil, who were both born in Germany but have Turkish heritage, were pictured presenting Turkish President Recep Tayyip Erdogan with signed jerseys from their respective clubs at a charity event in London last month.
In a message written on his Manchester City shirt, Gündogan addressed Erdogan as "my president," prompting outrage among some Germans and attracting criticism from public figures and politicians. He and Özil were both subjected to whistles from German fans during the 2-1 friendly defeat to Austria in Klagenfurt on Saturday.
"The reactions affected me, especially the personal insults," Gündogan told news agency DPA and German public broadcasters ZDF and ARD and Tuesday. "Because, in my opinion, some of the accusations leveled at Mesut and I are 100 percent untrue.
"We were there because all Premier League players with Turkish roots had been invited to a charity event, and that's where the photo was taken," he explained, insisting that he never intended to make any sort of political statement.
"We have a strong connection to Turkey but that doesn't mean we would ever claim that Mr. (Frank-Walter) Steinmeier isn't our president or that Angela Merkel isn't our chancellor."
Read more: Gündogan, Özil meet German president after Erdogan controversy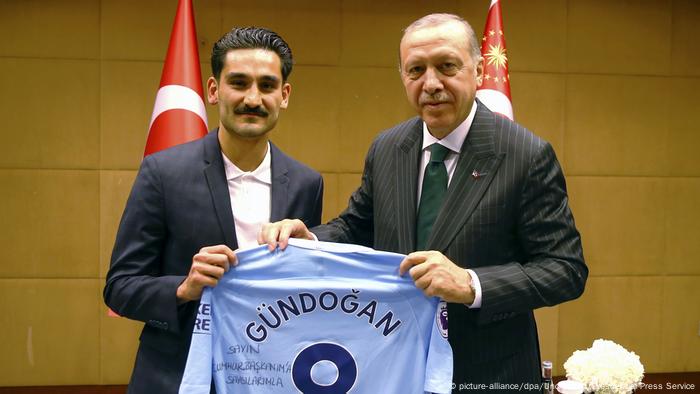 'My president': This photograph of Ilkay Gündogan and President Erdogan caused controversy
Gündogan and Özil both grew up in Gelsenkirchen, a working class city in western Germany with a multicultural population, and Gündogan insists that both "have contributed a lot to promote integration."
"Everyone has his or her own opinion and I always welcome criticism," he continued. "That's why we have freedom of expression and that's also what I stand for – but I won't stand for insults.
"I feel privileged to have grown up in Germany so it was a heavy blow for me to be portrayed as somebody who isn't integrated and who doesn't live his life according to German values."
The issue has also been a subject of discussion within the Germany squad.
"I have my opinion but it hasn't made them better or worse people," said teammate Sami Khedira at an official media day at the national team's training camp in Eppan, South Tyrol. "I judge them by what they do on the pitch and by how I know them personally. They know what they've done and how to deal with it."
mf/pfd (dpa/SID)