Prime Minister Geir Haarde's center-right Independence Party is opposed to the Nordic nation joining the EU, as are the four parliamentary parties not in government.
Only Haarde's coalition partner, the Social Democratic alliance, favors the move.
Haarde said that by creating the special commission, the two sides were "showing their willingness to overcome their differences."
EU fishery policies pose a major hurdle
The prime minister presented his new government to President Olafur Ragnar Grimsson on Wednesday after his party came out on top in general elections earlier this month.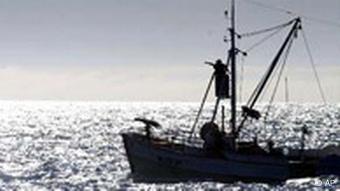 The Icelandic government allows whale hunting for scientific purposes
"The two parties have agreed to say that from now on, we'll turn towards the future, not towards the past," Haarde told a press conference.
Iceland has never held a referendum on the issue. The restrictive impact of EU fishery policies on Iceland's key fishing sector is a major argument brought by Icelanders opposing membership. The country has, however, belonged to the European Economic Area since 1993.
The head of the Social Democratic Alliance, Ingibjorg Solrun Gisladottir said the Alliance party wanted to move towards European membership more than the Independence Party did.
"But it was important for us to reach an agreement," said Gisladottir, who is set to be foreign minister in the new government.
Environmental issues top the new government agenda
The coalition said in its new government program that it would focus on environmental protection, a main theme during the campaign.
The governing partners will also need to reach an understanding on another topic of dispute: the construction of aluminum smelters and a major hydroelectric dam in Karanhjukar in eastern Iceland's magnificent glacier landscape.
The dam, which is now completed and cost more than $2.2 billion, was built to provide energy for the US company Alcoa's aluminum smelter.
The Independence Party, which led the previous coalition government, favors expanding the dam, stressing the positive impact the aluminum smelters have had on the economy and employment. The left, which has been in opposition for the past decade, has meanwhile called for a moratorium on the construction project.
The coalition partners hold a total of 43 seats in the 63-member parliament, while the center-right Progressive Party that participated in the outgoing coalition government managed to win only seven assembly seats in the May 12 elections.