At the end of last season, when DW asked Dortmund coach Jürgen Klopp to pick his player of the season, he answered, " Max Kruse – to be honest there's no alternative."
High praise indeed for a player who only a year before had plied his trade in the second division. But with eleven goals and eight assists, Kruse was a crucial ingredient in a recipe that took tiny Freiburg to the top six and the Europa League.
That performance brought him an immediate move to Mönchengladbach, where he racked up eight goals and six assists in the first half of this season.
But 2014 hasn't been his year. Ahead of the Foals' match last Saturday against Dortmund, he'd drawn a blank. But in Dortmund, Kruse showed what he's capable of, scoring the game-winner after a left-right-left feint that left Lukasz Piszczek, no mean defender, looking as though he'd donned concrete boots.
Psychologically, Kruse seems to have weathered his goal drought unscathed.
"I think it's important for a striker to score goals, definitely," Kruse told DW before the Dortmund match. "But just because you haven't scored doesn't automatically mean that you've played badly."
Not exactly the sort of thing you'd expect to hear from someone playing a position where single-minded determination is considered the first essential quality. But then again Kruse doesn't think of himself a classic striker at all.
The new hybrid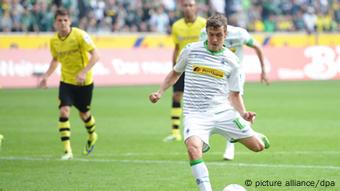 Agile as midfielder, lethal as striker - Max Kruse
The idea that every football team needs a big target-man striker in the middle, usually wearing the number nine, is roughly as old as the rule that you're not allowed to handle the ball; but lots of successful teams defy that truism. Barcelona do entirely without a classic center forward, as do Bayern Munich on occasion – much to Mario Mandzukic's chagrin.
As a result a "false-nine" position has evolved – a forward who sometimes occupies the area in front of goal but who also drops back to receive the ball or to catch out defenses by sneaking onto crosses unmarked.
Kruse says he never aspired to that role, but it's turned out to be one that suits him best.
"Actually I never saw myself as a true striker, but my coaches saw something more than I did," Kruse told DW. "I'd say I'm something of hybrid, which is a bit of a trend at the moment. A 'false nine,' if you will."
To be effective a false nine has to develop a relationship with an attacking midfielder with whom he can swap positions. In Gladbach, Kruse has developed exactly this sort of partnership with Brazilian Raffael, who scored the first the Foals' goals against Dortmund. Kruse was the provider.
Kruse's flexibility makes him attractive for the German national team since he represents an alternative to classic center forwards like Miro Klose or Mario Gomez. He's been capped six times since 2013.
Late bloomer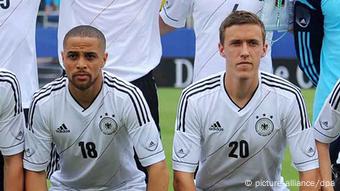 Kruse and Sidney Sam are two players on Jogi's list
In an age where the game's top players rise to prominence while they are still teenagers, Kruse is an anomaly. It's not often that a player gets his first national call-up at the age of 25. But Kruse took a while to realize his potential.
The northern German played his youth football at Werder Bremen – a club long known for its attacking style of play – and his goal against Dortmund depended on a level of ball skills not many out-and-out forwards possess.
He spent three seasons at St. Pauli, before moving to first Freiburg and then Gladbach. With his rise to the top levels of first-division German football, Kruse improved his work ethic and started putting in the extra shifts that often separate the great from the good.
"I think it's simple to get to the top – the trick is to stay there," Kruse said. "To do that you have to invest more than others. For a long time during my career, I relied on my talent. Now I've arrived where I always wanted to be. And to stay there is going to require a certain amount of discipline and ambition."
As if to remind Kruse that his position the Nationalelf isn't certain, Jogi Löw left him out of the squad for Germany's most recent friendly in favor of a young striker in the traditional mold, Pierre-Michel Lasogga.
But Kruse does not seem to have an attitude problem. And the sight of the 26-year-old "false nine" faking one of the Bundesliga's best right backs out of socks on Saturday must have reminded Löw that Kruse might represent a very useful alternative indeed.
Max Kruse was interviewed by Barbara Mohr for DW's football magazine, "Bundesliga Kick Off," which airs on Mondays and Tuesdays.