In what will come as a welcome boost for the beleaguered Blair, U.K. judge Lord Hutton said claims that the British government had doctored intelligence in a controversial dossier on Iraq's weapons of mass destruction was "unfounded" and no one could be held responsible for Kelly's suicide.
Kelly, a weapons expert at the British Ministry of Defense, was found dead in July after being named as a source for a BBC report that alleged the government "sexed up" a dossier used to make the case for war against Iraq.
"I am satisfied that Kelly took his own life by cutting his left wrist," Lord Hutton said on Wednesday, adding there could be no way to foresee the public pressure put on the scientist would cause him to take his life.
However, Hutton said BBC reporter Andrew Gilligan was wrong to say that to beef up an otherwise lackluster dossier, the government had intentionally included a now questionable claim that Iraqi weapons of mass destruction were deployable in 45 minutes.
"The reality was that the 45-minute claim was based on an intelligence report the Secret Intelligence Service considered to be reliable,"Hutton said.
BBC blasted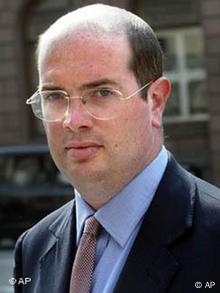 Andrew Gilligan from the BBC.
In his 328-page report, he also lambasted the BBC's supervisory system as "defective" and said Gilligan had unfairly attacked the government's integrity without properly founding the charges.
In response to Hutton's withering criticism, BBC board of governors chairman Gavyn Davies said late Wednesday afternoon he would resign.
Addressing the House of Commons on Wednesday, Blair welcomed the results of the inquiry. In a strongly worded statement he said there should be now be no doubts about the actions of the government during the affair.
"The allegation that I or anyone else lied to this House or deliberately misled the country by falsifying intelligence on (weapons of mass destruction) is itself the real lie," Blair said.
Since Kelly's death, Blair has been sharply criticized by the media and opposition conservatives for his alleged role in the affair. Members in his own party have also criticized him for not being forthright in the disclosure of the facts quoted in the weapons dossier.
In the last year, Blair has had to endure a series of sharp blows to his position. The latest was on Tuesday when the government just barely won a House of Commons vote 316 to 311 on increasing university tuition fees.