The death toll from a massive earthquake that struck central Italy on Wednesday morning has risen to at least 247, officials said on Thursday, as emergency workers raced to find anyone who might have survived.
Rescue teams and volunteers from all over Italy have pulled dozens of people out alive, including a 10-year-old girl rescued by firefighters from a collapsed house in Pescara del Tronto on Wednesday evening, 17 hours after the quake hit.
"Unfortunately, 90 percent we pull out are dead, but some make it; that's why we are here," Christian Bianchetti, a volunteer from Rieti, told The Associated Press.
The magnitude 6.2 quake hit a remote area across Umbria, Lazio and Le Marche, and was felt as far away as Rome, 150 km (90 miles) to the southwest. Most of the deaths occurred in and around the villages of Amatrice, Accumoli and Arquata del Tronto.
"The town isn't here anymore," said Sergio Pirozzi, the mayor of Amatrice, which was worst hit. "I believe the toll will rise."
About 150 aftershocks, some major, followed in the 12 hours after the quake.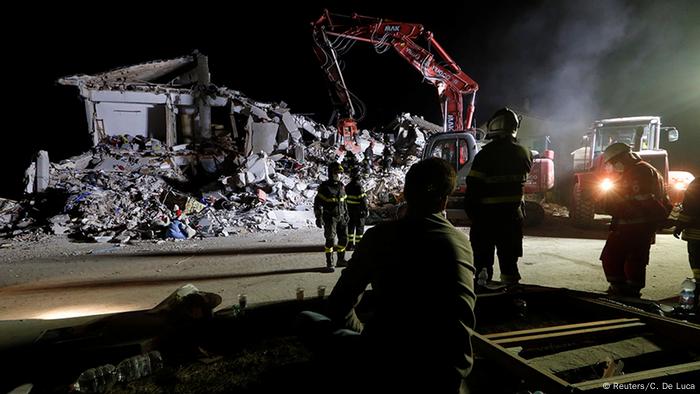 Rescuers worked through the night
Popular holiday destination
The region, which is highly seismic, is popular with summer vacationers from other locations in Italy, a factor that adds to uncertainty regarding the toll of the dead and missing.
Authorities are looking to find temporary accommodation for more than 2,000 people, with residents being advised not to go back into their homes.
The area is just north of the city of L'Aquila, where a quake claimed the lives of some 300 people in 2009.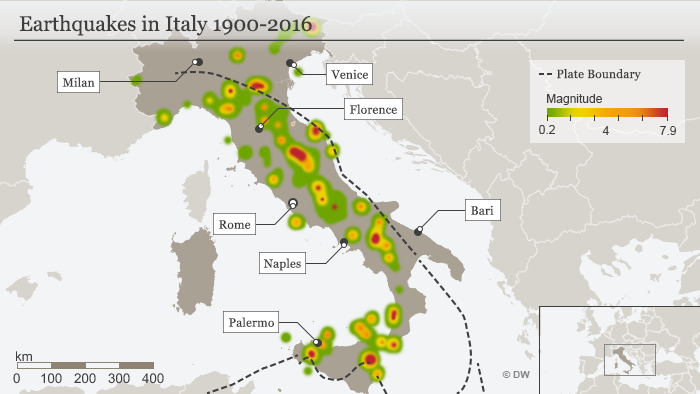 Renzi visit
Italian Prime Minister Matteo Renzi visited the zone on Wednesday, saying the disaster was "a pain without limits" and pledging that "no family, no city, no hamlet" would be neglected. He vowed that reconstruction work would begin immediately on Thursday.
According to various geological services, the earthquake had a shallow depth of between four and 10 kilometers (2.5 and 6.2 miles). Shallow earthquakes tend to be more damaging than those that have a deeper epicenter.
"The Apennine mountains in central Italy have the highest seismic hazard in Western Europe, and earthquakes of this magnitude are common," according to Richard Walters, a lecturer in earth sciences at Britain's Durham University.
tj/rc (AFP, AP, dpa)