Hungarian-born Gyorgy Dalos is the recipient of this year's Leipzig Book Award for European Understanding, coinciding with the start of the Leipzig Book Fair. The prize is endowed with 15,000 euros ($20,600).
Journalist Lerke von Saalfeld, who presented Dalos with the award at a ceremony on Wednesday, described Dalos, as reported by dpa, as a "Central European who best embodies the history of the European spirit."
Gyorgy Dalos lives in Berlin, but in his books he regularly returns to his homeland, Hungary. He was born in Budapest in 1943. World politics have had a long-lasting effect on Dalos. As a Jew, he experienced as a child what it means to be excluded. He also had to deal with loss at a young age, as his father died in a labor camp in 1945.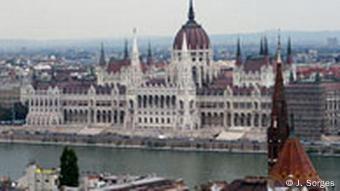 Hungary plays a central role in Dalos' works
The experiences of these early years, the pressure to conform and the quest for self-determination were all later integrated into Dalos' novels - rich, atmospheric descriptions combined with a light tone and saturated with humor.
The public enemy
His novel "The Circumcision," which first appeared in German in 1997, is about a boy named Robi and his experiences with growing up. Robi's biggest problem is the fact that he missed out on the Jewish ritual of circumcision, which is normally performed on boys when they are eight days old. It never happened because there was no time for it, since Robi was born in an air-raid shelter in Budapest during a period of regular bombings.
Dalos studied German history in Moscow from 1962 to 1967. He began writing during his studies, and his first volume of poetry appeared in 1964. In the same year, Dalos became a member of the Hungarian Socialist Workers' Party, but his membership only lasted four years because in 1968 - while employed at Budapest's modern history museum - he was accused of being an enemy of the state.
He was then sentenced to seven months in prison, excluded from the party and issued with a 19-year working and publishing ban.
With the Warsaw Pact armies' occupation of Czechoslovakia in 1968, Dalos lost his faith in Marxism and co-founded the opposition movement in Hungary. He made a living as a freelance translator of Russian and German works. His first notable success abroad was his novel "1985" - a sequel to George Orwell's somber dystopian novel "Nineteen Eighty-Four" - in which Dalos examines the role of intellectuals in totalitarian societies.
The cultural communicator
From this point on, Dalos was once again allowed to publish books in Hungary. In 1984, he received a scholarship from the German Academic Exchange Service DAAD. Since then he has worked predominantly in Western Europe, firstly at the Eastern European Research Center at the University of Bremen, and then alternately in Vienna and Budapest as a multi-media author.
His novel about the fall of the Iron Curtain won Dalos particular praise
From 1995 to 1999 he was head of the Hungarian cultural center in Berlin and managed to transform it into a lively forum for art and culture. Dalos is passionate about sparking interest in his home country and introducing the wider public to its writers - like Imre Kertesz, Peter Nadas, Gyorgy Konrad, or Peter Esterhazy.
In 1999, Dalos organized Hungary's participation as a guest country at the Frankfurt Book Fair.
In his latest book, Dalos looks at the end of dictatorships in eastern Europe. With a touch of irony, Dalos describes the dissolution processes that took place in the Eastern Bloc countries in the late 1980s.
The press dubbed the book a "political thriller with satirical episodes and details" and talked of its "conceptual acuteness" as a "very recommendable contemporary history book."
Author: Silke Bartlick (ew)
Editor: Kate Bowen