Like most Greeks, Nikos Varthimiadis is bust. Bad debts ruined his bakery last year, pushing the middle-aged man and father of three into Greece's unemployment lines — the longest within the 28-nation European Union.
On-and-off jobs followed for months. But finding permanent employment in a country strangled by the worst financial crisis to hit an EU state proved futile.
So prodded by another jobless friend, plus glossy ads promising a steady income of at least €1,300 euros ($1,600) a month, Varthimiadis signed up with a local job contractor recruiting blue-collar workers for a Japanese manufacturing plant in the Czech Republic.
The working conditions at the factory in Kadan, some 90 kilometers (55 miles) miles northwest of Prague, proved perfect, but the setup was a sham.
Realities on the ground
"Once there," said Varthimiadis, "representatives of the recruiting service served us with contracts that spelled out an entirely different arrangement: a monthly salary of €540, with no overtime remuneration or other perks that had been promised."
The former baker and his friend refused to sign, returning to Greece instantly.
But others, mostly young Greeks facing a 50-percent unemployment rate among youths back home, stayed on — or at least tried to.
"From the minute we boarded the dilapidated bus that took us on a 40-hour agonizing drive to Kadan, it was obvious that this was all a sham; a fraud," Christina Neri told DW. "But when you are in despair, you tend to overlook a lot of things."
Across Europe, nearly 55,000 agencies recruit hundreds of thousands of workers each year for cheap manual labor and service-sector jobs. The agencies allow employers to tap into a more flexible workforce to avoid steep labor costs.
But in bringing in busloads of destitute and penniless Europeans like crisis-plagued Greeks to run factories in Central Europe, many agencies saddle workers with conditions and services that local employees are unlikely to accept.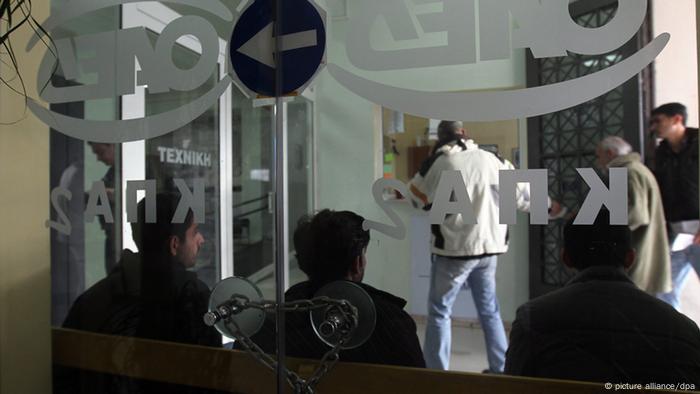 Young Greeks are waiting for their turn in an employment office in Athens, but most have little hope of finding work right now
Poor conditions
"They had us living like slaves in filthy, disgraceful hostels that looked like anything but the comfy hotels featured on the [Greek] agency's website," said Neri.
"Worst of all, there was no medical assistance."
So, when the 28-year-old former hairdresser caught a flu while smoothing out tires at the Toyoda Gosei Czech auto parts plant in Kadan, she was told by the recruiting agency she would be sacked, if she called in sick.
"I battled it out the first day, but then I quit," she said. "I wasn't prepared to give up my health and my life for this."
Under most contracts, employees dismissed before a minimum three-month working period are barred from seeking compensation. Most however leave before then, victims say.
"I managed to collect about €300 from my pay," Neri said. "I used €90 to buy a ticket back home."
More than 427,000 Greeks have left the country seeking jobs abroad since the economy in the southern eurozone nation collapsed in late 2009. The unprecedented brain drain is continuing, according to the Bank of Greece.
The mass exodus has Greece ranking third after Cyprus and Spain in terms of the proportion of young people leaving the country.
Improvement in sight?
And yet, officials claim, the government has made significant strides, now preparing to break free of austerity and bailouts from its international lenders later this year.
State statistics in recent months have shown that Greece's once-harrowing unemployment rate of 27 percent has largely receded. While easing off another point last month, dipping to about 20 percent, it still remains nearly three times as high as the 8.8-percent EU average.
And that, unemployed people here say, will continue to keep pushing Greeks abroad in pursuit of jobs, potentially falling prey to dodgy recruiters.
"I don't care that I'd left," said Neri, who has moved back in with her parents in Volos, central Greece. "But I do care about the young 18- and 19-year-olds who get trapped in such fraudulent schemes without a clue."
Greek embassy officials contacted in Prague said they were "aware of growing complaints" and "false expectations" created by many recruitment agencies. It remained unclear, though, whether they would take action.
"There are legal loopholes that allow for such activities to take place," said one diplomat on terms of anonymity.