Right before he murdered her with three gunshots to the head near her Berlin apartment, Hatun's brother Ayhan is said to have asked her, "Do you regret your sins?"
Her alleged offense in the eyes of her brothers was that 23-year-old Hatun Sürücü wanted to lead an independent life and not submit to her family's rules. She rejected her forced marriage to a cousin, divorced him and stopped wearing her headscarf. Her 19-year-old brother, Ayhan, said on record that he murdered Hatun to restore his family's honor. He was handed a juvenile sentence of nine years and three months in prison. The other two brothers, accused of conspiring to murder, were acquitted due to a lack of evidence.
This week marked the 13th anniversary of the young mother's murder. Her hometown will soon have a lasting memorial to her. In Berlin's Neukölln district, a bridge over the A100 city highway will be named Hatun Sürücü bridge.
"The fact that we are honoring Hatun Sürücü and her life is something absolutely positive," psychologist Ahmad Mansour told DW. "But I hope that not only will the bridge be named after her, but that girls in schools and families will be encouraged to forge their own path."
Read more: Rethinking the term 'honor killing'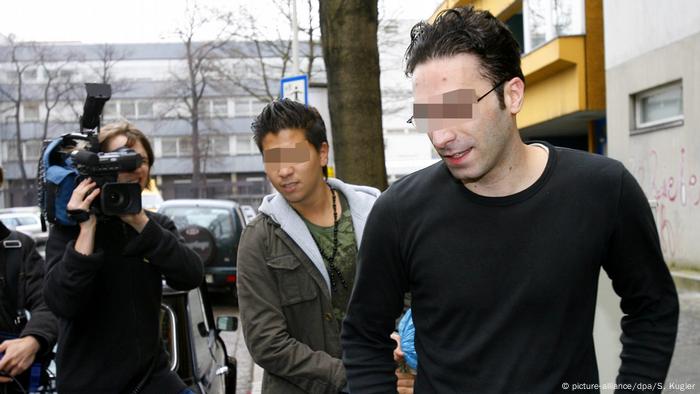 Two brothers were accused of providing a weapon and 'moral support' to the killer
What does honor mean?
Sürücü's murder sparked a debate about "honor killings" in Germany. "Before Hatun Sürücü's murder, there was a prevailing idea that so-called honor killings were something that were committed in Saudi Arabia, Jordan or Turkey, but not in Germany. This has changed," says Mansour. Since then there have been countless talk show debates, projects and even films on the topic.
Mansour is a co-founder of the Berlin prevention project "Heroes." Young men are trained to talk about honor and equality with other young men through roleplay. "Honor then no longer means controlling the sister, but fighting for the sister's freedom," says Mansour. "It's also a question of how to live out masculinity, and not just following what patriarchal structures expect from these men."
Honor killing is a patriarchal problem, not a Muslim one, he says. It is the tip of the iceberg of more widespread oppression. Despite the success of "Heroes," Mansour believes there is still much that needs to be done. "I would like to move away from projects and focus more on a debate about fundamental values that would, above all, reach young people in schools," he says.
Read more: Turkish court acquits defendants in Berlin 'honor killing'
Men are also affected
There are no official statistics on how many honor killings have been committed since Hatun Sürücü's murder. The most recent study was conducted by the Max Planck Institute in 2011. It documented cases from 1996 to 2005 on the basis of trial files and media reports. There were 78 murders that were investigated, some of which were difficult to distinguish from partner killings or blood feuds. The result showed that 43 percent of the victims were men, which was significantly more than would be expected from the public portrayal of this issue. The vast majority of the perpetrators (92 percent) were not born in Germany.
The study also showed that the honor killings were mainly linked to certain traditions in regions of origin, and not to a particular religion. The perpetrators included not only Muslims, but also Yazidis and Christians.
Read more: Pakistani-German couple in Darmstadt sentenced to life for killing their daughter
And the study was also able to dispel another preconception. The number of honor killings had not increased over time, but had remained constant over the years. According to the report, around three women were killed per year by a family member due to an injured "sense of honor."
"Honor killings are a phenomenon that is limited to the particularly poorly integrated and educationally disadvantaged," sociologist Dietrich Oberwittler, who conducted the study at the time, told DW. "Based on the study, we expect honor killings in Germany to decline. In the second and third generations of immigrants, the norms that cause people to commit such acts will also decline."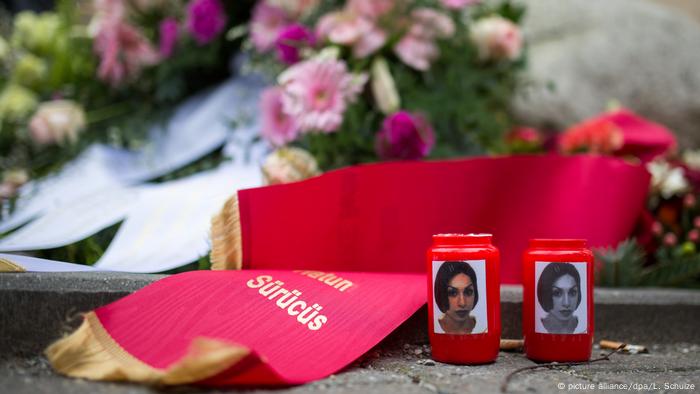 A memorial to Hatun Sürücü
'Honor killing' versus 'family drama'
Whether statistically recorded or not, atrocities against young women in particular continue to dominate the headlines. Most recently, the murder trial surrounding Hanaa S. caused a nationwide furore. The crime committed against the 35-year-old mother was described in the media as an honor killing, and four family members were eventually convicted of murder. However, it is often difficult to say whether it is an honor killing, especially if the perpetrator is the woman's own husband. The term honor killing is highly controversial, not only for this reason.
Political scientist Yasin Bas believes that the term should be abolished. He says it is only used for offenders with an immigration background, while German perpetrators are described in terms of a "relationship tragedy" or "family tragedy," which sounds more harmless. His concern is that if you keep using the term honor killing, it will serve to strengthen right-wing extremists.
Read more: Examining Pakistan's 'honor killings' scourge
The campaign "Stop Bild Sexism," which opposes the objectification of women in the German tabloid Bild, is also calling for new terminology to be used. They say that the term "family drama," in contrast to "honor killing," does not suggest a questionable gender image. But that is wrong, they say. They argue that violence against women is a general problem, as indicated by the high number of violent crimes. According to a study conducted by the Federal Criminal Police Office in 2015, 131 women were killed by their partner and more than 100,000 were affected by violence.