In an unprecedented ruling, the Federal Social Court in the western German city gave the green light to three Jewish claimants, two men and one woman all over 80 years old, to claim the pensions.
Judge Ulrich Steinwedel said the cases "stemmed from the darkest chapter of German history and couldn't leave anyone unmoved."
During World War II, the three claimants were confined in ghettos -- cordoned-off zones in eastern European cities where Jews were corralled by the Nazis before being sent to death camps -- in present-day Poland and Belarus.
During that time, the claimants worked in the German army postal service, a leather factory, and the state-owned Hermann Goering industrial group. They were given meals at work, some food to take home or ration coupons, and occasional cash gratuities.
Long legal fight
Pension claims of Jews who worked in ghettos under the Nazis have been the subject of a long-running legal battle in Germany.
In 1997, the Federal Social Court in Kassel ruled that Jews who had worked in ghettos during the Nazi era could claim old-age pensions. In 2002, the German parliament passed a corresponding law.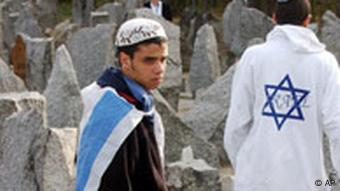 The ruling has been welcomed by Jewish groups
But in the following years, pension scheme providers in Germany rejected more than 90 percent of claims, arguing that the claimants did not fulfill the conditions laid down in the law that qualified them for pension payouts.
One of the main problems, they said, was the fact that the workers in the ghettos did not receive conventional wages from the German occupiers.
But on Monday, the judges ruled that a proper work relationship existed between the Jewish workers in the ghettos and their Nazi employers even when it was forced and when the sole remuneration was in the form of food or hand-outs, regardless of their value.
Jewish groups welcome ruling
According to media reports, Monday's ruling could cost pension scheme providers in Germany an estimated 2 billion euros ($2.9 billion), with thousands of affected people potentially receiving a monthly pension of 150 euros. It's also expected that formerly rejected claims could be reassessed.
In a series of cases in recent years, elderly Holocaust survivors have won life-long pensions, not like the lump-sum compensations previously paid out by the German state to former slave laborers.
Monday's ruling has been welcomed by Jewish groups and by lawyers representing the claimants.
"The ruling corresponds to the spirit of the law and gives many Holocaust survivors whose claims were rejected by pension fund providers a bit of justice," Georg Heuberger of The Jewish Claims Conference Germany said.
sp/dpa/AFP/AP
Editor: Trinity Hartman