Around 750 photographs, documents, works of art and other historical items - many from personal collections - go on display in Berlin on Thursday, May 28.
Organized in memory of the beginning of the Nazi plan of eastward expansion, the exhibit highlights their 1939 invasion via Gdansk as well as the brutal Nazi occupation of Poland through 1945.
The exhibit begins by examining ties between the neighbors in the 18th century, when present-day Poland was partitioned between Russia, Prussia and Austria, and continues to after World War II, looking at the expulsion of Germans from Poland after 1945, Cold War relations and recent reconciliation efforts.
Different takes on history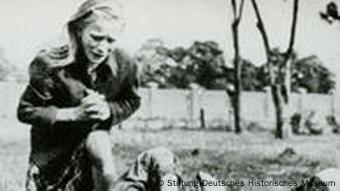 A Polish woman mourns for her sister, who was shot as Nazi soldiers entered Poland in 1939
The way history is viewed and taught in both countries has differed dramatically - but is also a key factor in encouraging reconciliation.
"The Poles concentrate on the battles that took place in Poland during World War II, on the fight within Poland against Hitler's Germany and on the other theaters of war," historian Michael Mueller told Deutsche Welle. "And of course they're concerned with the suffering of the Polish people.
"When they think of war crimes, the Germans are mainly concerned with the crimes of the Soviet Union, but of course also with the Holocaust and their own suffering," he added.
Mueller has led a joint German-Polish school text book committee for the past 10 years. He said Polish school books always contained a lot of information about Germany, even if it wasn't always correct. The bigger problem, however, was that Poland was often not even mentioned at all in German text books.
To correct that, Mueller's committee has made recommendations on what should be included in school books in both countries and prepared materials for teachers to use in class.
Similarities waiting to be discovered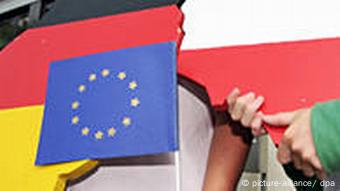 Many programs connect German and Polish youth
Another effective approach to reconciliation has been exchange programs that allow Germans to visit Poland and vice versa.
Johannes Hering, a 20-year-old from Germany, said he's enthusiastic about getting to know Poland and also about helping other Germans appreciate their neighbor to the east.
He has spent time in Poland caring for a few of the 18,000 Holocaust survivors, now in their 80s, who live in the country, and is considering returning to Poland to study.
"You have to work on finding out what you have in common," said Hering. "Germany and Poland have a common history that is full of suffering. But it's also important to find similarities that help you look toward the future."
Readiness to forgive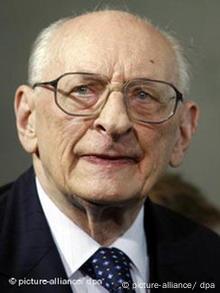 Bartoszewski says he's willing to forgive
Poland's former foreign minister Wladyslaw Bartoszewski knows about suffering. He was 17 when World War II broke out and later spent one year as a concentration camp prisoner in Auschwitz. Yet he has continually been active in supporting German-Polish reconciliation, both as foreign minister and now as Poland's special envoy for German relations.
"One can forgive and, as a Christian, one should want and be able to forgive when somebody admits their guilt, expresses regret and awaits forgiveness," said Bartoszewski.
"But how can I talk about forgiveness regarding people who weren't even born during those critical times?" he continued. "No one bears guilt for deeds he didn't commit himself."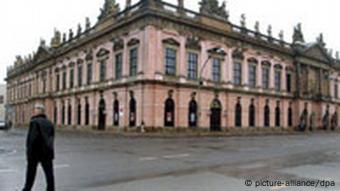 The German Historical Museum Museum is a Berlin landmark
German Minister of State for Culture Bernd Neumann and Poland's Culture Minister Bogdan Zdrojewski officially opened the exhibit on Wednesday. At the event in Berlin's Ephraim Palace, the ministers signed a joint declaration paving the way for a European Network for Memory and Solidarity.
Based in Warsaw, the network is to begin its work later this year, focusing on the analysis, documentation and distribution of information about the past. Hungary and Slovakia are expected to sign the declaration later in Warsaw.
The exhibit, entitled "Germans and Poles: abysses and hope," runs in the German Historical Museum through Sept. 6.
kjb/DW/dpa/AP
Editor: Sean Sinico