"France is your homeland," Hollande said on Tuesday at Paris' Shoah Memorial and vowed to combat "unbearable" rising anti-Semitism in France.
He delivered his speech before leaving for Auschwitz to mark with other world leaders the 70 years since Soviet troops liberated the Nazi German extermination camp.
"You, French people of the Jewish faith, your place is here, in your home. France is your country," Hollande said, adding that France would protect "all its children and tolerate no insult, no outrage, no desecration."
Hollande's appeal to France's Jewish community of 550,000 coincided with figures published on Tuesday showing that anti-Semitic acts in France doubled last year to 851.
Some 7,000 Jews left France for Israel last year, more than twice as many as in 2013.
Highest exodus since 1948
Releasing the figures, the Representative Council of French Jewish Institutions (CRIF) said it was the highest number of departures since Israel's founding in 1948.
The listing included 241 acts of physical violence, the CRIF said.
In contrast, the CFCM council of Muslim organizations said a total of 128 acts of violence and threats were made in the first 12 days after the Charlie Hebdo attack.
Two jihadists killed 12 people, including four cartoonists, when they entered the satirical magazine's Paris editorial office on January 7.
During his Paris speech in the presence of five survivors of former Nazi German concentration camps, Hollande expressed "bitterness" that protection had become essential.
"How in 2015 can we accept that we need armed soldiers to protect the Jewish of France?" he asked.
He promised continuing protection at synagogues, schools, cultural centers and Jewish businesses.
A kosher Jewish supermarket became the target of a third jihadist, who killed four Jewish hostages on January 9 .
Hollande also paid homage to the 76,000 French Jews deported to Nazi extermination camps during World War Two.
Warning to Internet providers
Hollande also called on Internet service providers to take action against the spread of anti-Semitism online, saying they could not ignore Holocaust-denial theories disseminated on social networks.
Otherwise, he said, providers would be regarded as "accomplices." New regulations were needed with penalties for providers who did not comply.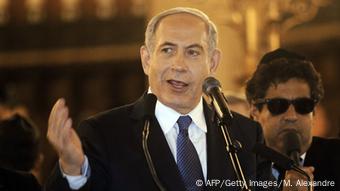 Welcome in Israel, said Netanyahu
"The big Internet providers must take responsibility. They can no longer close their eyes or they will be considered complicit," he said.
Netanyahu took part in Paris's subsequent mass march against the Islamist attacks, saying "any Jew who wants to immigrate to Israel will be received with open arms."
In 2004, then-Israeli Prime Minister Ariel Sharon urged French Jews to flee "the wildest anti- Semitism" and come to Israel.
In Berlin on Monday ahead of Auschwitz liberation ceremonies, German Chancellor Angela Merkel said: "We must not forget. We owe that to the millions of victims."
She said it was "wonderful" that Germany was now home to more than 100,000 Jews.
Harassment a disgrace, says Merkel
She added that it was "a disgrace that people in Germany are harassed, threatened or attacked if they somehow identify as Jews or if they take the side of the State of Israel."
This year's anniversary comes as Germany's political leaders struggle to deal with the emergence of anti-Islamization movement PEGIDA since October in Dresden and anti-refugee protests.
In a countermove, tens of thousands have taken to the streets in support of minorities and multi-cultural living in Germany.
ipj/kms (KNA, AFP, Reuters, AP)