The mayor of Herxheim am Berg, Georg Welker, denied accusations of anti-Semitism in the latest controversy surrounding the Nazi-era church bell in the German town south of Frankfurt. The 84-year-old bronze bell is inscribed with words "Everything for the Fatherland — Adolf Hitler" and a swastika.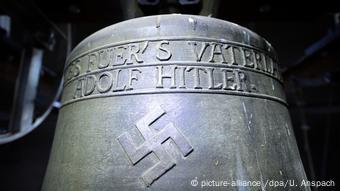 'Everything for the Fatherland' the enscription says
The bell has been used for many decades, located out of sight in the belfry of the 1,000-year-old church. However, a former church organist alarmed the public after learning of its existence last summer. It has since sparked an intense debate on dealing with Nazi relics in Germany.
Local authorities have so far refused to remove the bell, saying it was a "historic relic" and that the village should not conceal its past.
'I can hear the victims'
Herxheim am Berg's mayor Georg Welker argued for keeping the bell in a show which aired on Thursday on Germany's public broadcaster ARD. Welker said that the bell's toll was a way of remembering the victims of the Nazi regime.
"I can hear the victims, there were also German citizens, not only Jewish," Welker said, as quoted by the head of the Central Council of Jews in Germany, Josef Schuster.
The comments prompted sharp criticism from Schuster, who said Welker's remarks were close to Nazi ideology.
"Did he mean to say that Jews at the time were not German citizens?" he asked.
Read more: Should Germany keep its Nazi relics to teach young people about the Holocaust?
Gearing up for discussion in February
Welker didn't dispute that he'd made the comments but said it was possible he had misspoken or formulated a thought poorly during the course of the extended interview. Jewish residents of Herxheim am Berg left the village in the 1920s, before Hitler took power, said the 71-year-old politician and retired evangelist preacher.
During his work as the village preacher, Welker added, he conducted many funerals of people who suffered under the Nazi regime.
Welker's clarifications are unlikely to stem the controversy, which forced his predecessor Roland Becker to step down in September.
Read more: Town mayor quits over 'Hitler bell' controversy
The authorities of the 800-people-strong village called for community council session to discuss the fate of the bell next month.
dj/msh (epd, dpa, AFP)