Voting began at 6 a.m. Sunday (2330 UTC Saturday) with lines forming outside polling stations set up in Buddhist temples, schools and government buildings.
There's a sense of excitement in the Southeast Asian nation as around 30 million people prepared to vote in the first free nationwide poll in a quarter of a century.
A total of 91 parties are on the ballots, but the main contest is between the National League for Democracy (NLD), led by Nobel Peace laureate Aung San Suu Kyi, and the ruling Union Solidarity Development Party (USDP). A host of other parties from ethnic minorities, who form 40 percent of the country's 52 million people, are also taking part.
Thousands of eligible voters are, however, reportedly missing from lists, millions abroad failed to register in time, and most of the 1.1 million disenfranchised Muslim Rohingya minority are barred from voting.
In a pre-election speech on Friday, President Thein Sein stressed the government's commitment to ensuring a credible vote, with more than 10,000 observers scrutinizing the process.
"I'd like to say again that the government and the military will respect and accept the results," he said. "I will accept the new government formed, based on the election result."
Opposition figure vows to defy constitution
But under the constitution, even if the main opposition were to win in a landslide, its leader Aung San Suu Kyi is barred from the presidency due to constitutional changes critics allege were designed to prevent her from taking the oath of office. Add the fact the former military rulers are guaranteed a quarter of seats in the parliament; the handicaps against the opposition are formidable.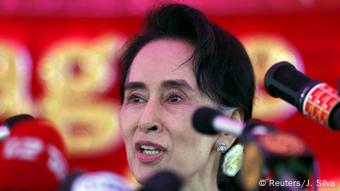 Myanmar opposition party leader Aung San Suu Kyi has said she would occupy a position "above the president" if her party wins the election.
But Suu Kyi has vowed that if her party wins a majority, she will be the power behind the new president regardless of a constitution she has derided as "very silly."
Many voters are expected to spurn the ruling USDP, created by the former military rulers and led by former officers, because it is associated with the brutal junta that installed President Thein Sein's civilian government in 2011.
A further complexity is the fact that an inconclusive result could thrust parties representing Myanmar's myriad ethnic minorities into a king-maker role, bringing them closer to the center of power after years of being sidelined by the country's elites.
jar/sms (Reuters, AP)