Scarcely another book is so closely associated with the sea than Herman Melville's epic "Moby Dick," but it was written more than 200 kilometers from the nearest ocean, deep in the forests of the US state of Massachusetts. The idyllic Berkshires, a hilly region geologically part of the Appalachians, are a still a popular holiday destination whose beautiful scenery has often attracted writers and painters. In Indian summer the area is transformed into a sea of gold, yellow and red fall foliage.
Melville wasn't the first writer in the Berkshires. Literary notables Oliver Wendell Holmes and Nathaniel Hawthorne lived in the region before he did. Melville was born in 1819 in New York City, the third of eight children in a family with deep roots in America. When his father's import business went bankrupt the family had to flee their creditors and after his father's early death two years later, their financial problems forced Herman to leave school and find work to help out.
Refuge for a world traveler
In the early 1840s he signed onto a whaling ship, then deserted, was briefly held captive by the inhabitants of the Marquesas Islands in present-day French Polynesia, managed to escape and returned via Tahiti, Hawaii and South America to the US east coast. A trip to Europe followed.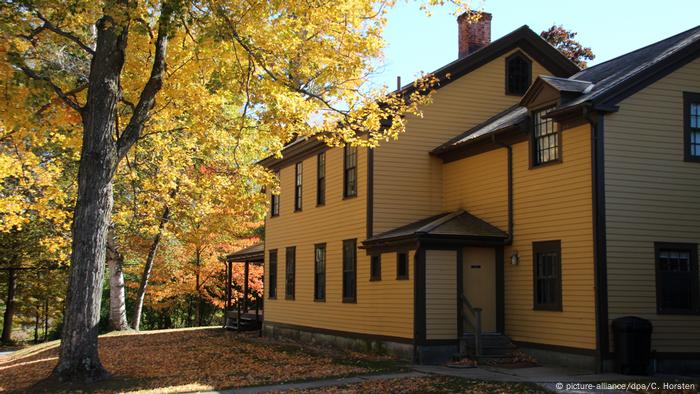 Melville's home, Arrowhead, in Pittsfield, Massachusetts
After all his adventures, in 1850 Melville retreated to the rustic serenity of the Berkshires. It was an "impulsive" decision, according to the Berkshire Historical Society. Melville had been looking for "a quiet solitude in which to write." His travels had provided him with plenty of material. He remembered the "beautiful view" from Mount Greylock, the highest mountain in Massachusetts, which he had enjoyed when visiting the Melvill farm, which belonged to one of his uncles.
In 1850 he bought the neighboring farm, which dated from the 18th century, and named it Arrowhead, after the native artifacts he found in the fields. Melville remained in Arrowhead for 13 years, and they were to become the most productive of his life. "Pierre: or, the Ambiguities," "Israel Potter: His Fifty Years of Exile," "Piazza Tales" and, of course, his monumental novel "Moby Dick" - all those and more were completed at the writing desk in his library on the first floor.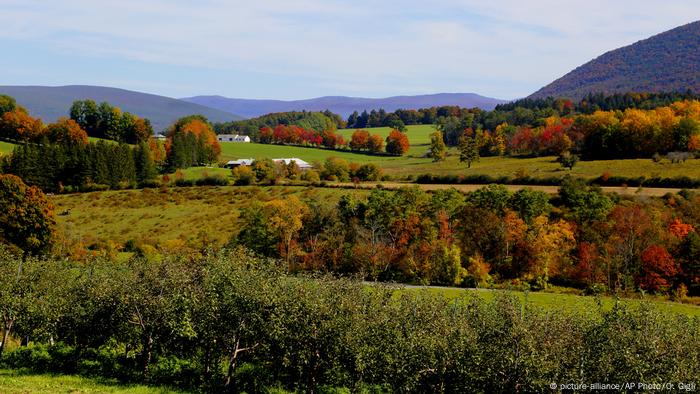 The hilly countryside of the Berkshires reminded Melville of the waves on the Atlantic Ocean
In the middle of the woods with a view of Mount Greylock, Melville processed his experiences at sea. "I have a sort of sea-feeling here in the country, now that the ground is all covered with snow," he wrote in December 1850. "I look out of my window in the morning when I rise as I would out of a port-hole of a ship in the Atlantic."
Return to New York
The library where he wrote was also a "refuge from chaos," according to the Berkshire Historical Society, because Melville didn't live alone in the house. He moved in with his wife Lizzie and a small son; three more children were born in Arrowhead. Melville's mother and three sisters also moved in, and many other family members made their home there from time to time. "It was a busy, chaotic household."
However, in 1863 Melville sold the farm to his brother and moved back to New York City. His debts were mounting, because works were commercial failures in his lifetime. Even "Moby Dick," a complex tome about the eternal struggle between man and nature, now celebrated as a masterpiece and classic, sank into oblivion until a circle of New York literary scholars rediscovered it in the early 20th century.
His own experiences on whaling ships inspired Melville to write his novel
The yellow-painted wooden Arrowhead farmhouse, surrounded by maple and elm trees, can now be visited on guided tours in the summer and autumn. The Berkshire Historical Society bought and renovated it in 1975. After he moved away from the Berkshires, Melville's life went downhill. His health became poor. Because writing didn't bring in enough money, he had to take on a job as a customs inspector. His elder son shot himself in the head at the age of 18; his second son died in 1886 in San Francisco.
In 1891 Melville himself died at the age of 72 and was buried in the Bronx. Only a few thousand copies of "Moby Dick" were sold in his lifetime. He was never to be as productive has he had been in Arrowhead, his paradise far from the sea.
Christina Horsten/ms (dpa)