In Berlin, as in most major cities, boys and young men from as young as 14-years old work the curbs, sex cinemas and gay bars of the German capital.
The fact that the rent boys of Berlin barely register on most people's radars led to the creation of an association in 1992 to help those in prostitution. The employees of "Sub/Way" visit the districts of Berlin where the boys work and supply them with condoms and advice on how to be safe on the streets.
Once a week, the Sub/Way team loads their van up with condoms, lubricants, sexual health pamphlets, instant soups and hot chocolate before entering the dark underbelly of the German capital.
The first stop is usually a Berlin train station where rent boys, many of whom have drug problems, punt for clients. The van is watched with interest and a little suspicion until a couple of boys come over and ask for hot chocolate.
Social workers form a bond with rent boys
Helmut Wanner is a social worker with Sub/Way and looks after the rent boys, knows them by name and knows many of their life stories.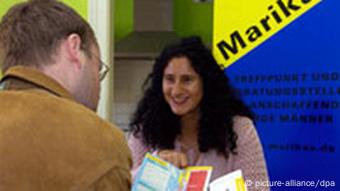 "Marikas" is Bavaria's only counseling center for male prostitutes
Over the course of the years, he has built up a trust with many of them and despite what many people think of their lives and their work; he has a certain amount of respect for them. When a tragedy strikes, he feels it more than most.
"It's terrible when somebody dies, which unfortunately seems to happen a lot," Wanner says. "Others don't have it as bad but there is still a lot of sadness."
Later in the evening, the Sub/Way team move onto the areas of Berlin where male prostitutes, many working for their next fix and any money they can get, loiter on the edges of dark streets waiting for clients. A large transvestite and transsexual contingent works the street; boys in high heels and mini-skirts mix with those who have undergone gender reassignment surgery.
Majority of male prostitutes come from Eastern Europe
Some 80 percent of male prostitutes in Berlin are not native Germans, most coming from Bulgaria and Romania, and Sergio Prinalski, the Sub/Way translator, helps the social workers to interact with these boys.
"On the most part you can be sure that they have very little or no education at all," says Prinalski. "These are the people who go on the game for economic reasons."
Sub/Way doesn't only work with the boys on the streets. Its drop-in center in Berlin offers the boys washing, sleeping and eating facilities as well as advice and medical help. The workers there also help to put the boys into contact with each other, to share stories and find companions. It is a lonely and dangerous life which doesn't often provide the kind of income that might compensate for the dangers.
"There are no steady price ranges in the scene," says Wanner. "I imagine, 50 euros is a usual price for penetrative sex but often the boys don't even get paid. Sometimes it can go for only a few euros when someone is desperate."
Easiest way to money for some
Towards the end of the night, the Sub/Way team visit the bars where the mostly eastern European boys sell themselves. There they sit on bar stools and wait for their customers. Their fresh, young faces make it hard to believe that these boys are on the game but for most, this is the only employment they can get.
"This is the only way they can earn something," says Prinalski. "The reality is that for a migrant with or without papers, this is the easiest and least complicated way to get work."
Circling the boys are the potential clients for the night, mainly older men. They eye each boy individually and touch them before making the decision. For the Sub/Way team, this is one of the hardest sights they have to deal with.
But optimism and success is their reward. "Many lives have been influenced in a positive sense and these scenes have been reduced," says Wanner. The association continues to help boys escape the scene and it is the personal contact with its workers which has been credited with persuading many of those to change their lives.
However, to run the organization needs money and Sub/Way has to fight for its funding as it receives only minimal subsidies from the Berlin senate. Only through private donations can Sub/Way continue to be there once a week for the rent boys of Germany's capital.