A committee from Myanmar's Buddhist authority, which includes the country's 47 most senior monks, confirmed the ban in a statement on Saturday.
The local Irrawaddy news site said the decision, which came into effect on Friday and lasts for 12 months, was intended to prevent monk Ashin Wirathu from spreading hate speech.
They warned the controversial monk that any breach of the order would lead to legal action.
Irrawaddy cited the statement as saying the 49-year-old's speeches were intended to cause communal strife and hinder the rule of law.
The country's highest Buddhist authority also accused him of taking sides with political parties to inflame tensions.
Widely supported
Wirathu is a member of the 969 Movement, an Islamophobic nationalist group of Buddhists known for verbally attacking Muslims in a majority Buddhist country where many worry about Islamic encroachment.
The digits 969 are said to symbolize the virtues of Buddha, Buddhist practices and the Buddhist community.
The monk is also linked to another nationalist group, Ma Ba Tha, which is behind the so-called race and religion protection laws, which human rights watchdogs see as a direct attack on religious minorities in Myanmar, also known as Burma.
Persecution of Muslims
Wirathu has been blamed for inspiring sectarian violence in the western Rakhine state, which borders Bangladesh, and is home to around one million Rohingya Muslims. He was dubbed the "Buddhist bin Laden," after the dead al Qaeda leader, for describing Muslims as "mad dogs" and "troublemakers."
In 2015, he called a United Nations official who criticized Myanmar's discrimination of Muslims a "whore," and recently used a Facebook post to praise the assassination of a top aide to Foreign Minister Aung San Suu Kyi, the de facto head of Myanmar's government. The aide, U Ko Ni, was Muslim.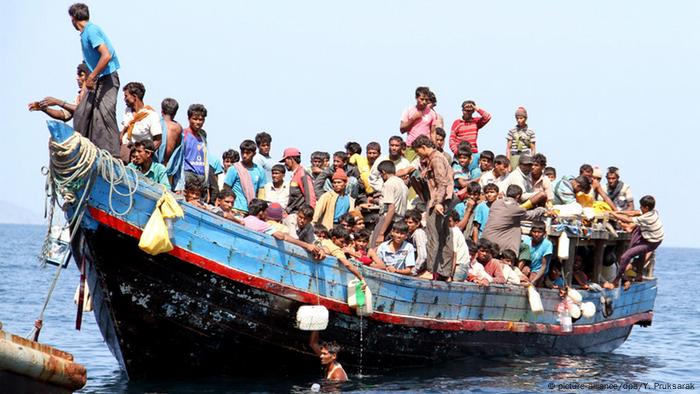 Thousands of Rohingya have fled Myanmar in recent years after being the target of sectarian violence
Rakhine has seen more than five years of conflict between Buddhist and Muslim communities, which culminated in a major crackdown on the Rohingya in late 2016 by the military and extremist Buddhist groups. The assault was launched to counter attacks on police camps by insurgents.
Human rights groups say several hundred people have been killed and have accused the military of wide-scale human rights violations.
mm/jlw (dpa, KNA)