Once synonymous with aristocratic hunting-shooting party attire and later for somewhat stuffy men's suits, Harris Tweed was launched into the realms of high-fashion by Vivienne Westwood in the 1980s.
In recent years, however, its popularity has waned: falling sales and the development of modern outdoor materials like Gore-Tex cast a shadow over its future.
But now, thanks to local passion and revised marketing strategies, the Scottish fabric is making a comeback: Production and sales are booming and the whole industry is sparkling once more.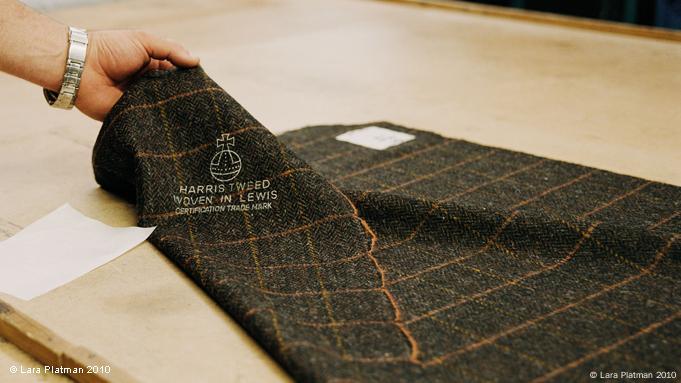 The orb stamp has been used to certify Harris Tweed for 100 years
100th anniversary
Although inhabitants of the Outer Hebrides off the northwestern coast of Scotland have been making cloth for centuries, this year marks the 100th anniversary of Harris Tweed's official protected status and the 'orb' stamp.
To qualify as authentic Harris Tweed and receive the stamp, the cloth must be woven by hand in the weaver's home or personal weaving shed on the Isles of Lewis and Harris. The yarn must be made of Scottish wool that has been dyed and spun at one of the three remaining island mills. After weaving, the cloth must be returned to the mills for washing, quality control and stamping.
"I think it's so important that we, as the custodians of the orb, make sure it's not going to suffer from the slumps that it has in the past," says the Carloway Mill's chief executive, Ann McCullum.
With extensive retail and design experience, she is widely praised for helping revamp Harris Tweed's tired image and reviving it as a credible fabric for modern fashion.
Experimenting with new patterns and strong colors, McCullum's strategy is to market the cloth's tradition and quality as unique selling points, rather than trying to compete with other fabrics.
"It holds its identity right to the very end, so when you're buying a Ralph Lauren jacket, it's actually a Harris Tweed Ralph Lauren jacket; and that makes it quite different from any other fabric in the world."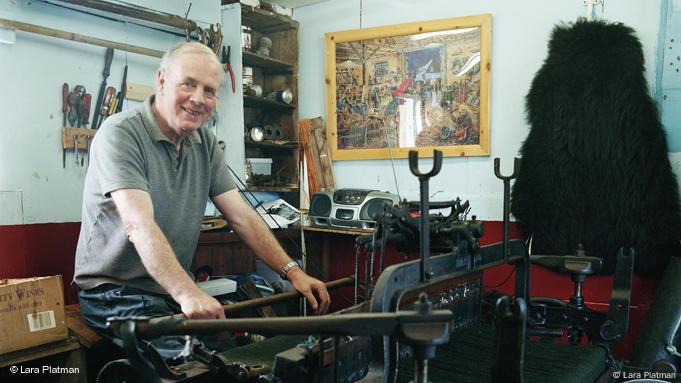 Norman Mackenzie weaves in a croft shed on the Isle of Lewis
New markets
Today, over 60 percent of Harris Tweed is sold to Japanese buyers who love the history and tradition of the handmade fabric.
"The Germans are at number two and the North Americans have slipped to number three but that market is improving now," says independent weaver Norman Mackenzie, who greets a steady stream of international visitors to his weaving shed. "But they're looking at other markets: India, Russia and even China."
From Tokyo to Paris, Ann McCullum regularly attends global fashion shows to promote what she describes as Harris Tweed's stylish versatility – not just for clothes but also for bags and other accessories. From Nike shoes to Radley handbags and now even Schott motorcycle jackets, she says the fabric is definitely becoming trendier – especially with celebrities like Madonna and Kylie Minogue boosting its cool factor.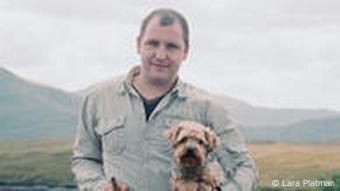 Donald John Mackenzie represents a new generation of weavers
Weavers wanted
For decades, young islanders rarely considered a career in the textiles industry, but with Harris Tweed mills receiving a huge increase in orders, they are urgently calling for new trainee weavers. "The industry is going through a purple patch at the moment," shouts Norman Mackenzie above the clickety-clack of his loom. "They're really desperate for new weavers."
Donald John Mackenzie, 29, is one young islander who has taken the plunge. Originally a joiner by trade, he was one of the youngest participants on a six-week council-funded training course, and now works regularly with one of the three operative mills. In addition to generating a steady income, he says it's an unexpectedly satisfying job: "It's lovely the time you spend on the croft weaving, and you're inside in the winter when the weather's bad."
Local schools are now running introductory courses covering all aspects of the industry to encourage school leavers to carry on the Harris Tweed tradition. Donald admits he never considered a career as a weaver until recently, but recommends it to other young people: "The way the current economic situation is, I count myself very lucky. It's a nice wee job that keeps the family home active."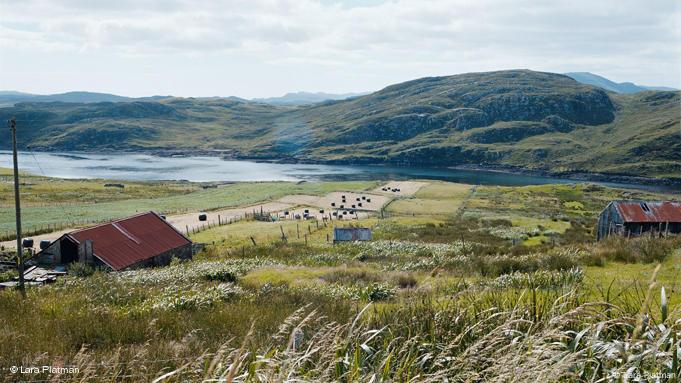 Textiles and croft farming are the main industries on the Isle of Lewis
Sustainable fashion
"Do the people who wear the suits they buy on Savile Row realize that this cloth has been woven in a little shed outside someone's house?" smiles Lara Platman, author of Harris Tweed: from Land to Street. Platman spent last year on the Isles of Harris and Lewis, photographing every aspect of the fabric's production and meeting the people who keep the traditions alive.
Harris Tweed has the magic formula: a combination of craft and industry together with a sustainable, eco-friendly identity. "It's such a successful structure and completely different from what we expect in today's world of computers and hi-tech," says Platman, adding that the seemingly old-fashioned fabric is actually quite modern: "It's completely self-sustaining and we all want to get back to that now. I'm convinced Harris Tweed will still be going strong in another hundred years."
Author: Dany Mitzman, Isle of Lewis, Scotland
Editor: Sam Edmonds
Photos courtesy of Lara Platman. Her book "Harris Tweed: from Land to Street" is published by Frances Lincoln.