Summer news flash: camping isn't fun!
That's the opinion of 91 percent of respondents - a thousand people who identify themselves as loving travel and the outdoors - in a new study called "The Truth About Camping," just released by MercuryCSC, a marketing agency based in Bozeman, Montana. The survey concluded it's a "public secret" that the vast majority of people don't think of camping as a "fun" experience, with 59 percent citing insects as their major gripe, closely followed by cold or rainy weather.
About of third of those questioned were most disturbed by the delicate toilet issue, then there's difficulty sleeping and finally, just the sheer amount of work involved in getting oneself geared up with every conceivable necessity and hauling it into a relatively secluded area.
However, says Maclaren Latta, MercuryCSC's Vice President of Consumer Insights, to interpret these results as indicating people aren't avidly interested in camping would be oversimplification. "It's a much more complex experience than just being 'fun,'" she said, explaining that campers are after a "sense of discovering something about themselves as well as about the area in which they're traveling and exploring." She says there's an appeal in the "grit and tension" of camping, the paradox of the strains and the joys in it. Latta says what travelers are searching for is not ease and comfort but a genuine experience.
A new experience
Ven Gist, founder and CEO of a new online land-sharing service called LandApart.com, reacted to news of the camping survey with good-natured disappointment. "Oh no, that is so terrible!" he exclaimed from the company's base in Portland, Oregon. "I'll make it my life's mission to make camping fun again," he laughed. Gist thinks one way to do that it is to offer an alternative to the mainstays of many outdoor experiences in the US: Recreational vehicle parks (RV) packed with large vehicles or federally-managed Forest Service sites. Amenities at these facilities range from laundry rooms, convenience shops and showers in the former to simple parking spots, potentially with firepits and basic outhouses in the latter.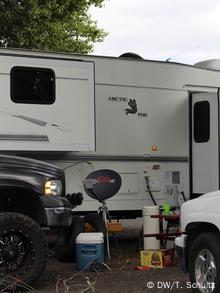 Luxury camping somewhat defeats the purpose
Gist says he and his fellow entrepreneurs believe there's a large sector of camping enthusiasts who may not be the hardcore hyper-equipped type but who nevertheless want real interaction with nature and wildlife that goes beyond rowdy RV neighbors. "We certainly view being able to properly enjoy the outdoors as a fundamental human need," Gist said, "especially as our city populations increase."
Operating on the same general basis as AirBnB, where homeowners rent out rooms or apartments on a per-night or per-week basis, LandApart will act as a bridge between campers and landowners offering anything from an empty field normally used for animal pasture to a yurt in a meadow to a comfortable cottage in a forest. Prices will be determined by the hosts and, of course, the market. LandApart won't dictate how owners can and should prepare their spaces, only that they carry liability insurance. "The diversity is important to our mission," Gist said, "and ensuring all people find an enjoyable outdoor experience any week of the year in any location" in the US, possibly even expanding overseas at some point.
Outdoor appeal
Dallas Hemphill is LandApart's "Hosted Lands Manager" and says there's definitely an "uptrend in urban folks trying to find that outdoor recreational piece that's accessible at short notice, within striking distance of a city." For the hosts, Hemphill says, the extra income LandApart can provide, however small, could help families keep their farms and gives a incentive to take care of the property as best they can.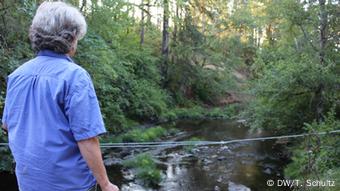 Seclusion and solitude if you want it
His mother Carol Hemphill gives a tour of one area of the Philomath, Oregon property where they envision allowing campers to stay. At the moment, it's not much more than an empty field with the Marys River running through it. Carol says they don't plan to put in too much in terms of facilities, but she trusts in her son's belief that there are people who will pay $30-$35 (27-32 euros) per night just for the seclusion and solitude. "It's not for everybody," she said, gazing at the river, "but I think more and more people are getting serious about having a soft footprint."
Campers in one Oregon site, however were skeptical of LandApart's appeal. A group of men on a bachelor party getaway said they would have no interest in paying to stay in farmland that had little to no amenities. Instead, they were in the Viento State Park just a couple hundred meters from a loud highway but they said the tradeoff was worth being just minutes from a huge variety of activities. "We went swimming today in the river," Tim Lynch said, "yesterday we went rafting, tomorrow we're going to go golfing. You're not going to get that in a field somewhere." His father John Lynch just shook his head, saying it doesn't sound like a good business model to him.
Serene seclusion
But Ven Gist is confident he's got a winning idea. Already before LandApart went completely active, he says, the response from interested guests was "rampant," outnumbering potential hosts about nine to one. "We're hearing a lot of passionate calls from all across the US and into Canada, Germany and Iceland so far," Gist said. "Most people just want to go camping somewhere with their own group and no one else around for a more serene experience with nature."
Interviewed by phone, 75-year-old German camper Hans Willy Thomsen of Meyn said he had 40 years of camping behind him, 35 of them spent primarily in an RV he doesn't ever move from the island of Sylt. His son-in-law is a serious camper, he explained, flying to Norway to get dropped by a helicopter into a camping site where no one else can go. Thomsen said he'd find extreme seclusion a bit lonely and boring. But a farmer's field? Sure, he'd be willing to give that a try, as long as you get to "see and experience something."