It's not as if Armin Veh was unaware of his coming fate.
"I can tell you what will be said when this coach is gone and what the players will say when the new coach has arrived," Veh told reporters. "'We're working much more on tactics, he communicates more with us…' I can assure you that's what's coming."
Cynical remarks. The astonishing thing was that Veh made them before Hamburg suffered their worst ever defeat to Bayern, 6-0, on Saturday. Goalkeeper Frank Rost is one of many dissatisfied players
The previous Tuesday, Veh had announced that he would voluntarily leave the northern German powerhouse at the end of this season, saying that "the situation at the club" had made it impossible for him to do his job sensibly.
On Saturday, Veh's resigned disgruntlement seemed to have carried over to his squad, who put up little resistance in Munich. If the match had been an international conflict, it would have been halted by a United Nations humanitarian resolution in minute 55, when none of at least three Hamburg players could be bothered to get a foot in to stop Arjen Robben's third goal.
Hamburg's bosses responded by replacing Veh less than 24 hours later with assistant coach Michael Oenning. But in their post-game interviews, the leaders within the squad made it clear that they think Hamburg's bosses themselves are the main problem.
"The performances we're displaying on the pitch have to do with the chaos at the club," said midfielder Ze Roberto. "And that didn't come about yesterday."
Hamburg's pitiable keeper concurred.
"We've seen the same thing here for eight years," Frank Rost fumed. "They [Hamburg's bosses] have to set an example. Only then will the coach and the entire club be strong."
Is there anything to these accusations? The answer is a resounding "yes."
Lost decade
Hamburg management and fans never tire of citing the fact that theirs is the only club to have been part of the Bundesliga every year since the latter's founding in 1963. But while the club has never been relegated, they have been struggling for a considerable time.
It's been 24 years since Hamburg have won a major title, and in the past decade they only managed to qualify for the Champions League twice - a disappointing record considering they are the largest club from a big and affluent metropolis.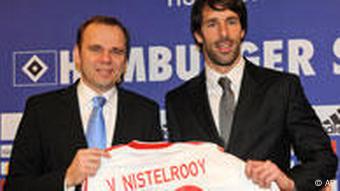 Hoffmann (l-) signed stars like Ruud van Nistelrooy, but he is also on his way out
Management infighting has much to do with this history of futility. At the beginning of last season, for instance, Hamburg parted ways with Dietmar Beiersdorfer, the sports director who had been primarily responsible for attracting talents such as Rafael van der Vaart, Nigel de Jong and Daniel van Buyten.
Beiersdorfer was booted out after losing a power struggle with chairman Bernd Hoffmann, a businessman who has never been popular with fans and whose own contract, set to expire at the end of this year, has not been renewed.
Against this backdrop it's not hard to understand why continuity is a very rare commodity in Hamburg. The club has run through eight coaches in as many years.
Many commentators, too, see the massacre in Munich as the culmination and logical result of managerial disorder.
"The team played without backbone and a sense of responsibility," Günter Netzer - the club's commercial manager during its most successful period in the 1970s and '80s - wrote in Bild newspaper. "It was a reflection of the example set by club management. The way Hamburg is presenting itself is pathetic and unworthy."
Netzer also branded the team "incompetent."
Gone fishing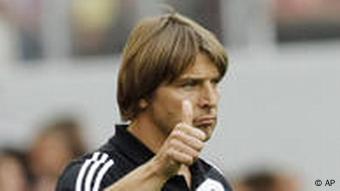 Michael Oenning, formerly of Nuremberg, takes over
Netzer's words were unusually blunt, but Hamburg's current bosses have done much to deserve extreme excoriation.
For example, in the wake of Veh's announcement he was leaving in the summer and with Hamburg still in the top half of the table, Hoffmann went on vacation. He had to be summoned back to work after the Bayern debacle to pull the plug on the coach.
It is hardly surprising then, with their coach on the out and their chairman gone fishing, that Hamburg's players decided to throw in the towel when things got a bit tough in Munich.
The likeable Michael Oenning, a players' coach with the coolest facial hair in the Bundesliga, now has eight weeks to pick up the pieces. Astonishingly, owing to the topsy-turvy results this season, Hamburg are still eighth in the table and still have a shot at qualifying for the Europa League.
If Oenning manages to pull that feat despite the chaos he inherits, it would be a minor miracle.
If he doesn't, Hamburg's lack of success - as it so often isn't - won't be the coach's fault alone.
Author: Jefferson Chase
Editor: Nancy Isenson