Hamburg Airport reopened at 6 a.m. (0400 GMT/UTC) on Monday after an electrical short-circuit plunged the airport into darkness Sunday morning, airport officials confirmed.
The blackout brought air traffic to a halt at one of the largest air hubs in Germany, and forced hundreds of travellers to evacuate the two terminals.
Shortly after 6:30 a.m., a Pegasus flight from Antalya landed at the airport, reported news agency dpa.
Some travelers will still have to contend with delays, as 23 departing flights and 10 arriving flights were canceled on Monday.
The airport said its technicians had worked under "high pressure" to fix the power failure, but did not give an explanation for why the outage had been so severe.
"Now we will follow up and work hard to figure out what the cause was," an airport spokeswoman told dpa.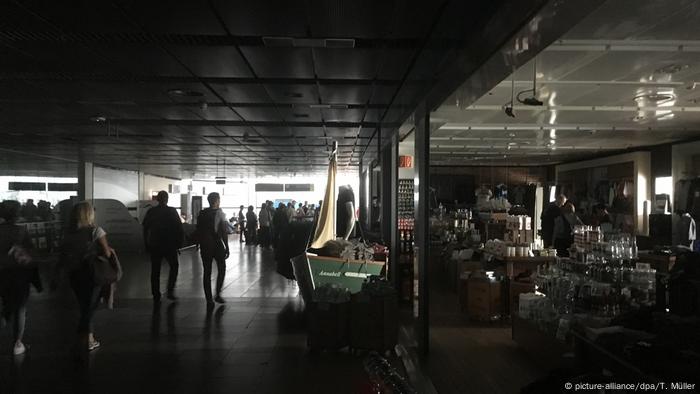 Airport technicians are still trying to figure out what made the blackout so severe
The power went out at around 10 a.m. (0800 GMT/UTC). By afternoon power still had not been restored, forcing the cancellation of all air traffic for the remainder of the day.
"The airport is forced to suspend flight operations for the rest of today. It was not possible to correct the error," they said in an earlier statement.
A message posted on the airport's website at the time of the blackout read: "Due to a power failure incident the airport is currently closed. Please contact your airline."
Planes en route to Hamburg were diverted to nearby airports, such as Hanover, 150 kilometers (93 miles) to the south.
Hamburg averages about 200 incoming and outgoing flights on a Sunday, and handles more than 17 million passengers per year.
Jenny Webber was among those stranded at the airport. She had been set to fly to Copenhagen when the power went out.
Her luggage had already been checked in, she said, "Otherwise I would have taken the train by now."
rs, bik,es,law/aw (AFP, dpa, AP)
Each evening at 1830 UTC, DW's editors send out a selection of the day's hard news and quality feature journalism. You can sign up to receive it directly here.