Born in the western city of Dusseldorf in 1929, Habermas is considered Germany's greatest living philosopher and is best known for theoretical works such as his "Theory of Communicative Action."
The work, which argues that language and inter-personal communication hold the key to liberation from oppression, carried Habermas' reputation far outside German borders and made him one of the most important critical theorists of the 20th century.
His career began in 1956 under the tutelage of critical theorists Max Horkheimer and Theodor Adorno at Frankfurt University's Institute for Social Research. But his first innings there was short-lived. By 1958, Horkheimer, who disapproved of Habermas' overt opposition to nuclear armament, had asked him to leave.
Habermas, who for his part had come to believe that Horkheimer's so-called Frankfurt School had become bogged down in political skepticism, went to the University of Marburg. It was there, under the guidance of Marxist Wolfgang Abendroth, that he completed his work entitled "The Structural Transformation of the Public Sphere: an Inquiry into a Category of Bourgeois Society."
From Marburg, the philosopher was offered the extremely unusual position of "extraordinary professor" - a professor without a chair - at the University of Heidelberg. Habermas remained there until 1964, when at the urging of his former professor, Adorno, he returned to Frankfurt to take over from Horkheimer.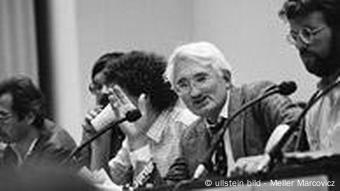 Habermas has been a mainstay of intellectual thought in Germany for decades
During his time at Frankfurt, where he continued into the 1990s, he earned himself a name as tutor and mentor, teaching a number of prominent philosophers and social theorists.
The social critic
The extensive Habermas oeuvre covers social theory, the analysis of advanced capitalistic societies and democracy, the theory of knowledge, contemporary politics and secularization.
The philosopher's understanding of democracy as a process based on communication is said to have influenced Germany's 1968 student revolt.
But Habermas hasn't limited his critical thinking to Germany. He is a strong proponent of the European Union, believing citizens should be given a chance to participate in a referendum on the EU's future.
"In most countries on the continent there are sleeping majorities in favor of further consolidation of the EU," Habermas said in 2007.
Stefan Mueller-Doohm, sociologist and writer, considers Habermas the most important philosopher in post-war Germany.
"Habermas is somebody who takes up almost every mental current," she said. "He tries to take in issues and to continue on with them. This is the brilliance of the man: this openness to receiving, the wide activity of thought."
Outspoken commentator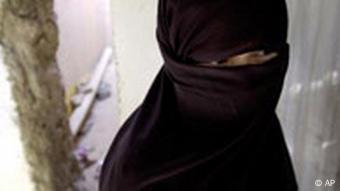 Habermas says radical modernization is fueling fundamentalism
Besides his written work, the intellectual has made his name through a willingness to speak his mind. He blamed the Sept. 11 attacks on the tension between religion and secular society.
In his 2001 acceptance speech for the Peace Prize of the German Publishers and Booksellers Association, Habermas said that despite its religious language "fundamentalism is, as we know, an exclusively modern phenomenon."
He said the "imbalance" between the ends and means of the "Islamic perpetrators" reflected an "imbalance that has emerged in the perpetrators' home countries between culture and society in the wake of an accelerated and radical modernization."
Habermas was equally outspoken about the US-led Iraq invasion, describing it as a violation of international law.
He also recently pointed his finger at the politicians who, he said, had done nothing to prevent the current financial crisis.
"Politics ridicules itself if it moralizes, instead of basing itself on the coercive right of the democratic lawmaker," said the philosopher and political sociologist.
Author: Tamsin Walker (dm)
Editor: Kate Bowen