After weeks of opposition, Germany's Green Party has decided to support the Medium Extended Air Defense System, or MEADS.
Funded by the US, Italy and Germany, MEADS aims to protect troops or sensitive locations from aerial assault by missile or plane. The system is intended to replace Patriot missiles in the United States and Germany, and Nike Hercules missiles in Italy.
But for Green Party chief Reinhard Bütikofer, there are still some reservations with regard to the project.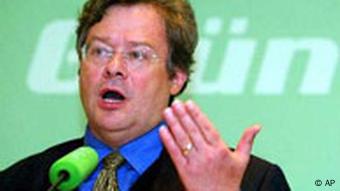 Reinhard Bütikofer
"It wasn't easy at all for us," Bütikofer said in Berlin on Monday, adding that his party, with its deeply pacifist roots, had decided to reluctantly throw their weight behind it after considering the project in its entirety. At the same time he said his party continued to have misgivings about the concrete military need for the project as well as the costs involved.
Reservations remain
The US, Germany and Italy are funding MEADS in shares of 58 percent, 25 percent and 17 percent respectively. For Germany alone, this amounts to 886 million euros ($1,154 million) over a period of eight years. More costs could follow.
Germany's Greens are worried that the costs involved in the missile defense project could balloon out of control. But despite their concerns, Green party leaders have decided that they do not want to risk a dispute within the coalition government. That's why they've recommended that the Green parliamentary group vote in favor of Germany's involvement in the project.
Chancellor Schröder's ruling Social Democrats (SPD) are happy with this development. SPD party chair Franz Münterfering is now reassured ahead of parliament's budgetary committee meeting later this week.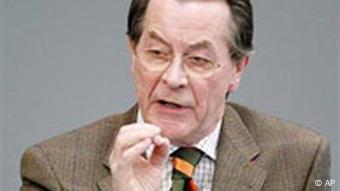 Franz Müntefering
Münterfering said he expects Wednesday's vote to be in favor of the MEADS project.
"It is also a question of Germany's reliability," he said. "We never had any doubt that this should be possible, and we are pleased that we can now come to this decision."
Reliability at stake
The need for Germany to be seen as reliable by its ally, the United States, was one of the Social Democrats' primary arguments for supporting the MEADS project – which is the largest transatlantic missile defense system. The Greens seem to have accepted this argument, but by way of compromise they are insisting that other defense costs be reduced.
On Tuesday, the Greens are expected to signal their support for the MEADS project within the Bundestag lower house of parliament. When the budgetary committee gives its approval as expected on Wednesday, the German government can finally confirm its long-awaited participation in the transatlantic defense system.